Day One of Hong Kong
here.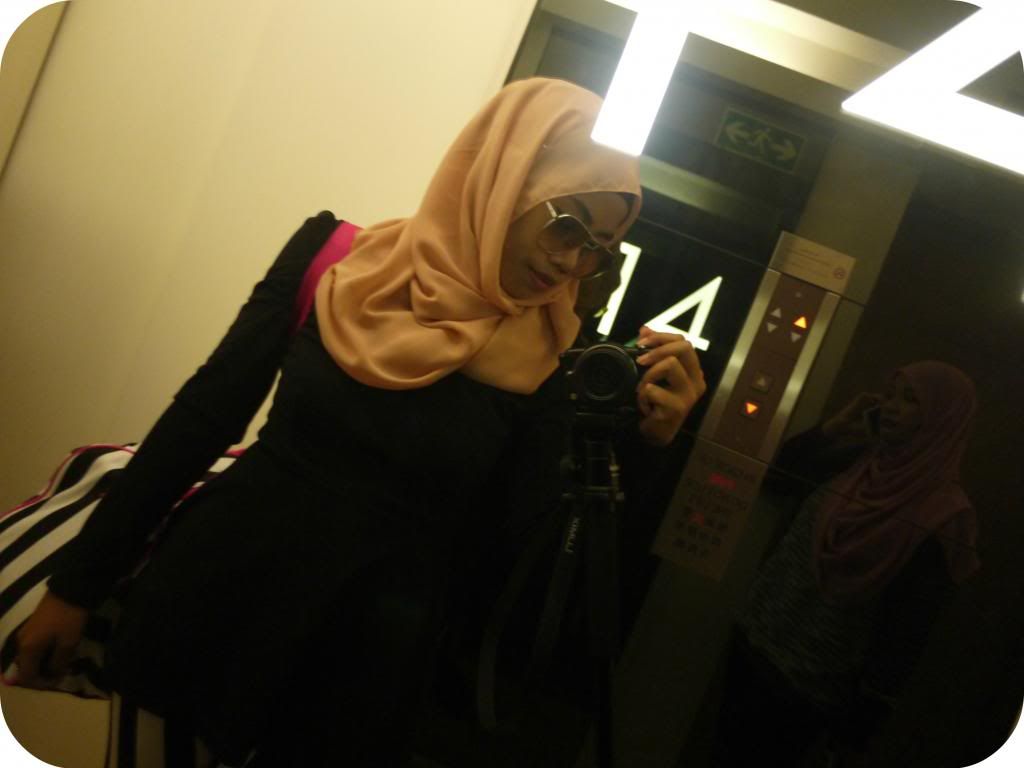 Morning day two! Starting the day with me, myself and a selfie.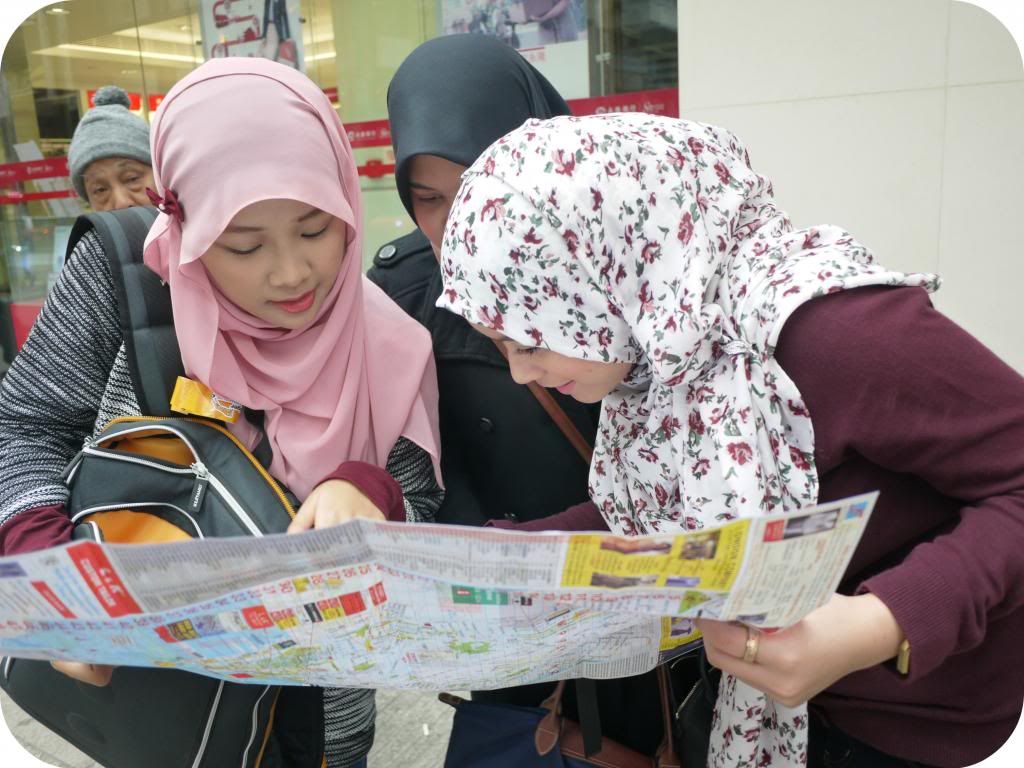 Checking out the nearest ferry terminal from our hotel. There are several ferry terminals in Hong Kong and the ones which provides ferry services to Macau are Macau Ferry Terminal, located near MTR Sheung Wan Station (Exit D) and China Ferry Terminal, MTR Tsim Sha Tsui Station (Exit A1).

You can to get to Macau from Hong Kong by two ways - helicopter, which is exorbitantly priced (almost SGD$1K for less than fifteen minutes?!), or the usual one, by ferry. Obviously, we chose the latter one.
Once again, we took the tram. To Sheung Wan we went~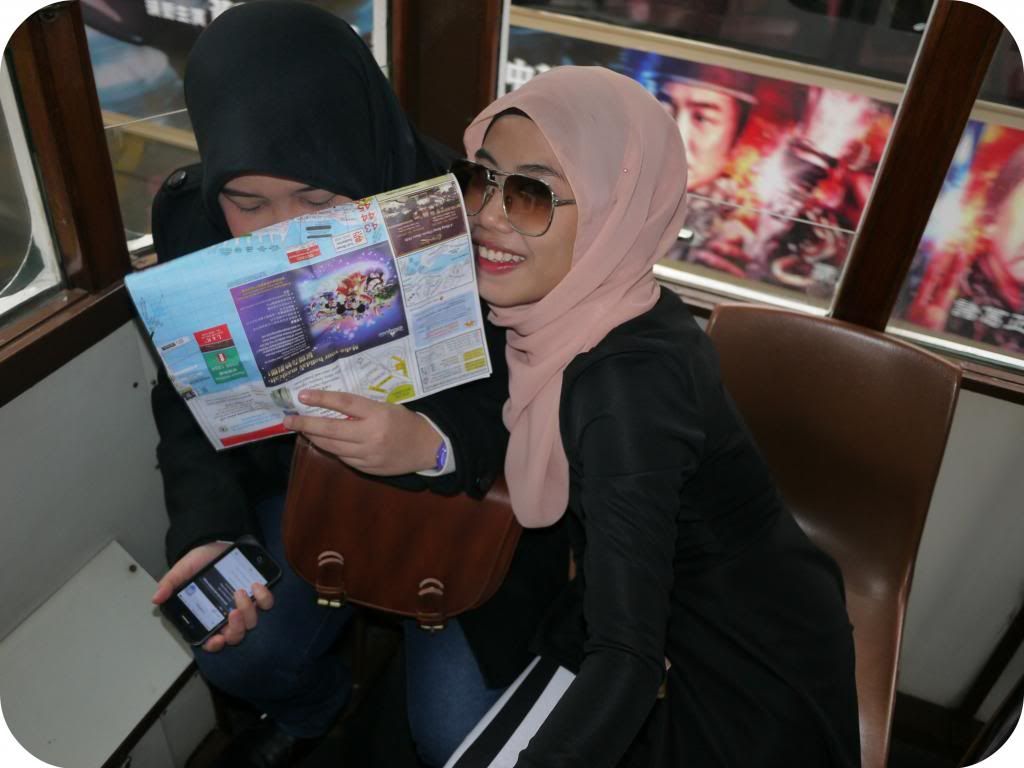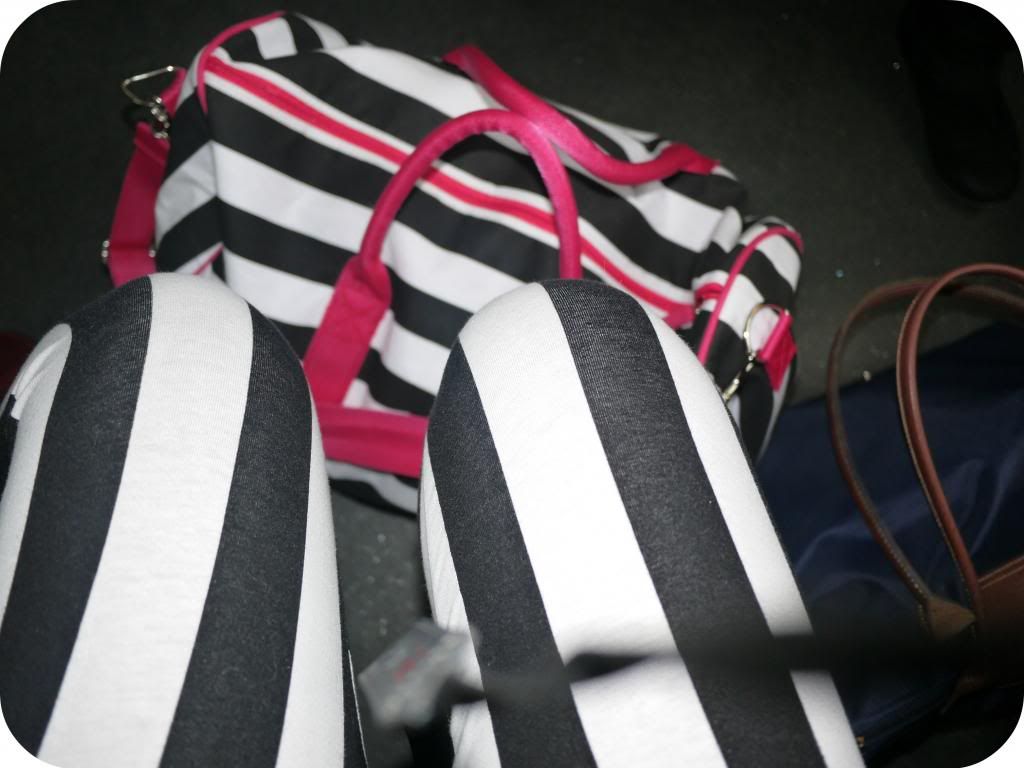 Matching pants and bag!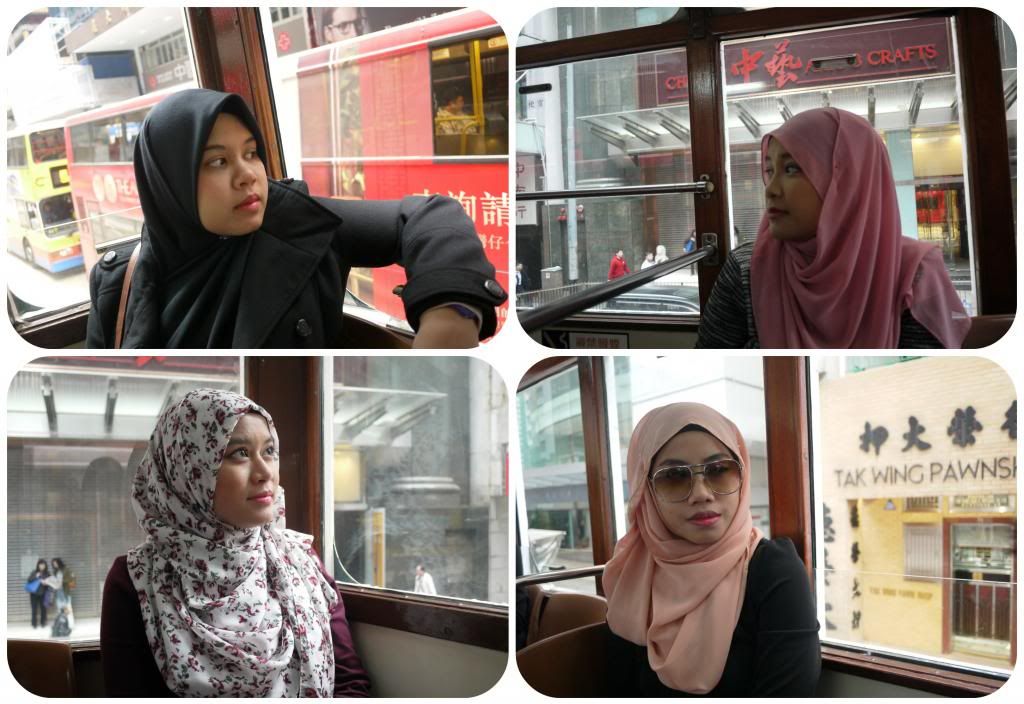 Solo emo shots lol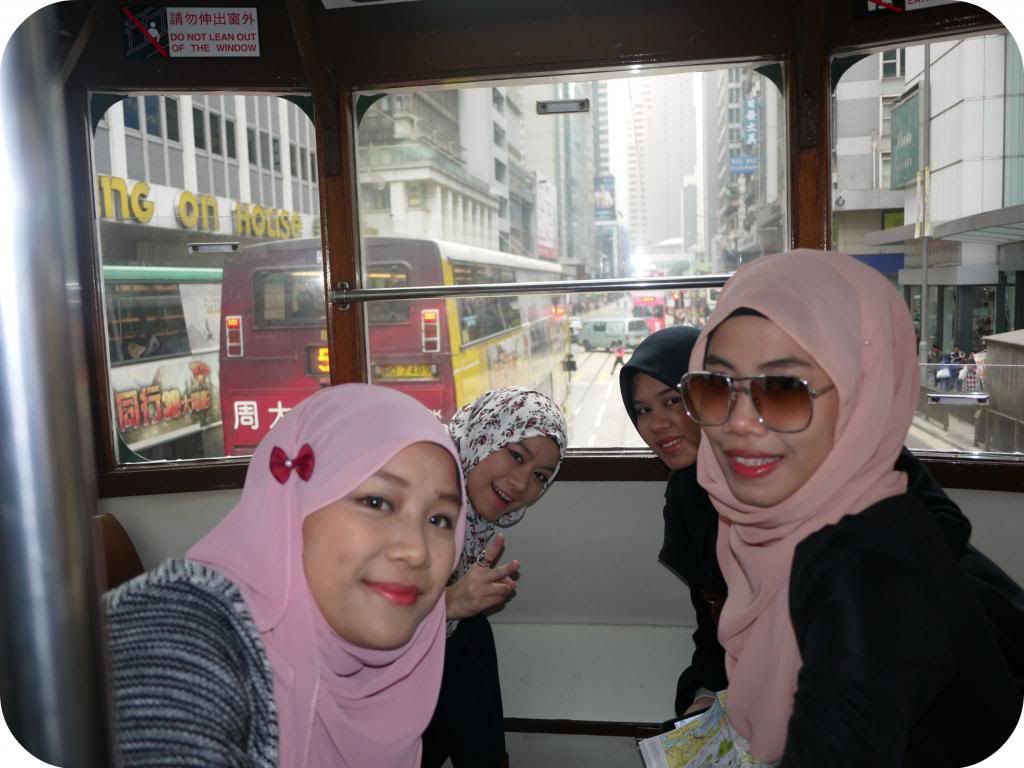 All set and ready for you Macau!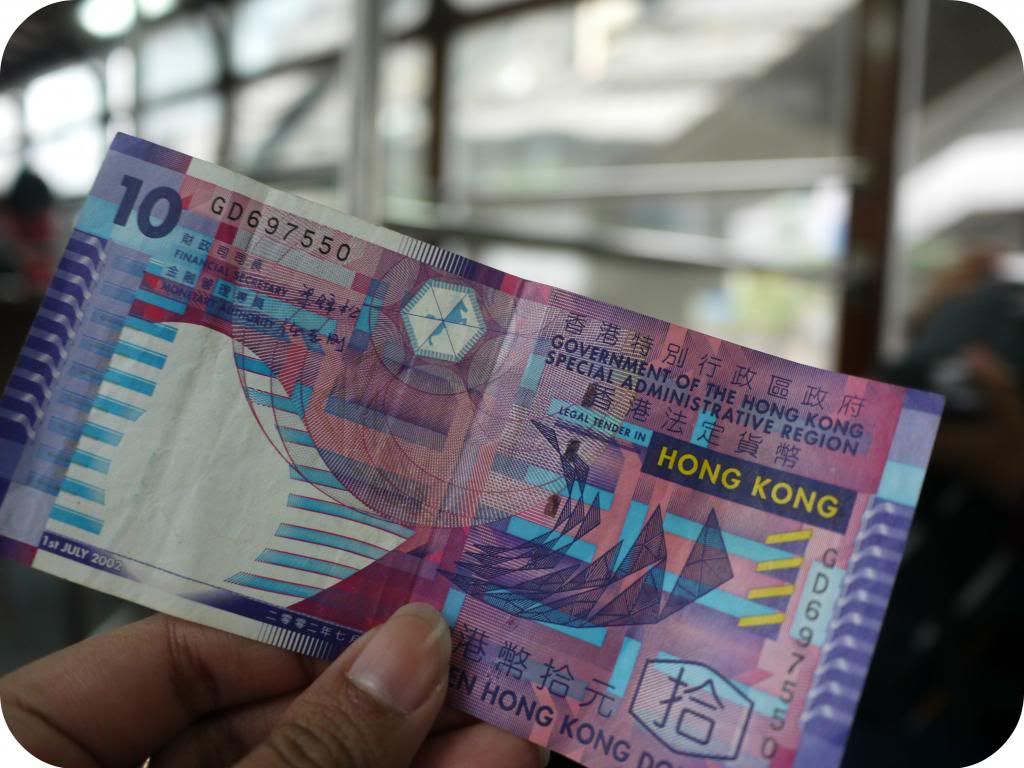 Best part of the ride? Only costs all of us HKD$10. That's less than SGD$2 okay. Where to get such cheap fares in Singapore, you tell me?
*****
The Macau ferry terminal is located at the Shun Tak Centre. Fyi, the ferry services timing are very frequent here, so if you just missed a ferry you actually don't have to wait for more than fifteen minutes for the next one. Also, because the ferry services end pretty late, you don't have to worry if you should buy your return tickets as well or later in Macau. For us, we decided to buy ours when we're returning back to Hong Kong, which means we have ample time to explore Macau.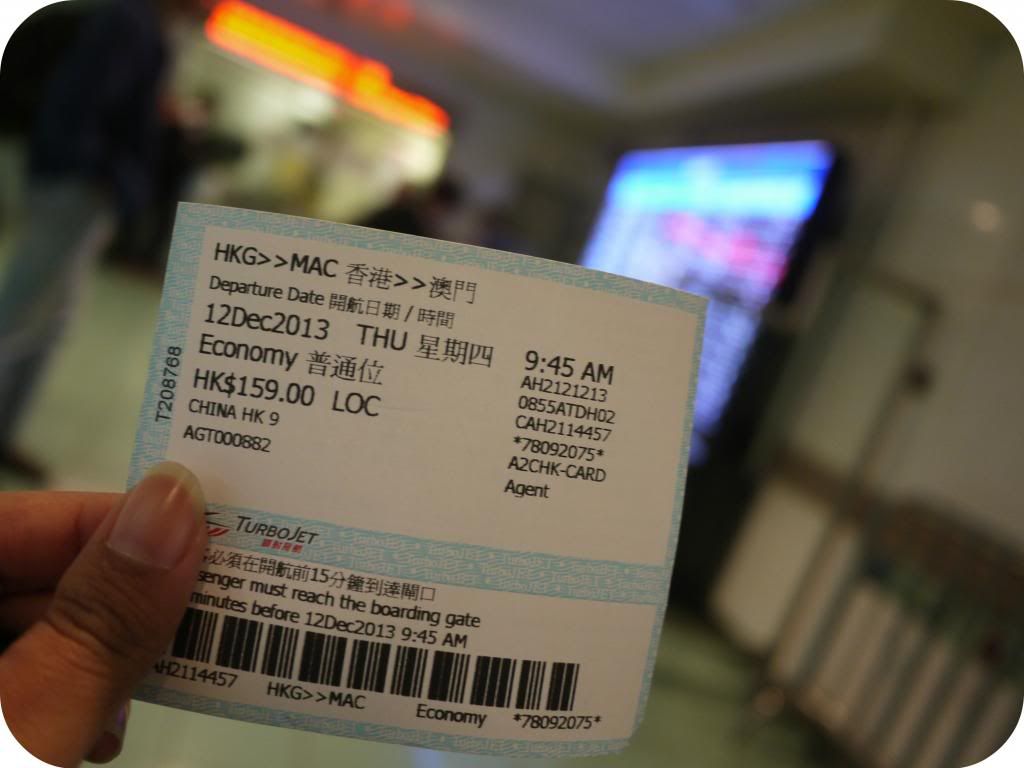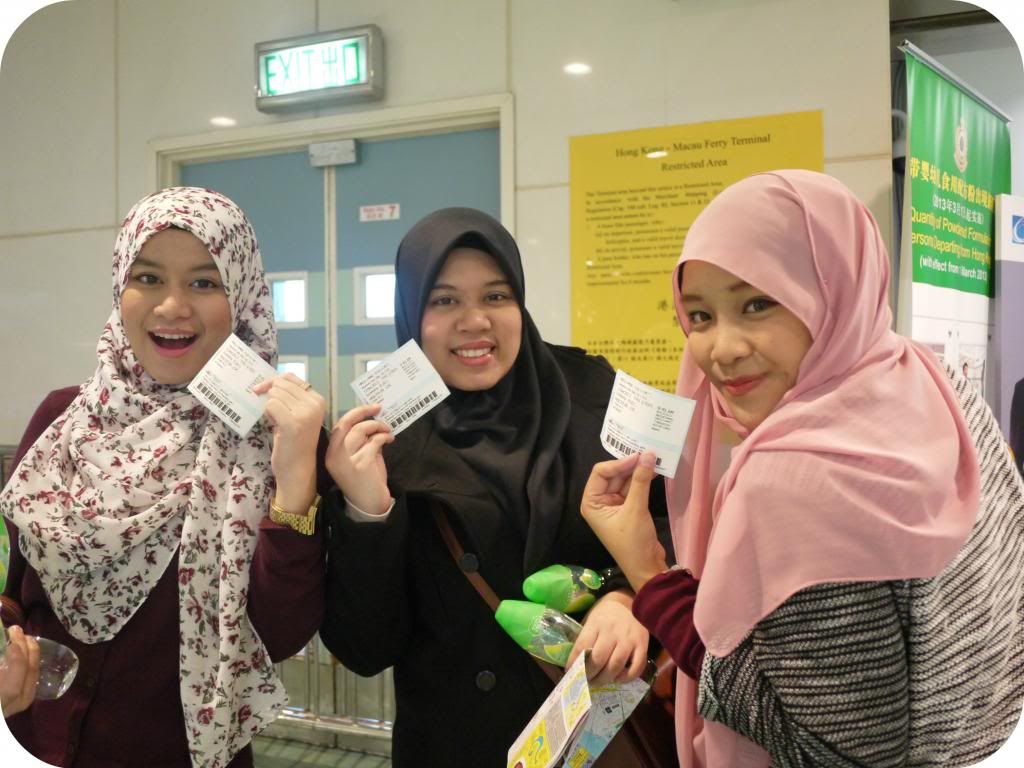 Even the fare is so much cheaper than going to Batam from Harbour Front -.-
The journey took about an hour so we did nothing but sleep all the way.
*****
Lucky for us, we met someone who offered to bring us around Macau for the price of SGD$50 per person. We thought that it was a good deal since firstly, most of the people can't speak English, and secondly, it's pretty hard to get a taxi around here. So of course, we agreed!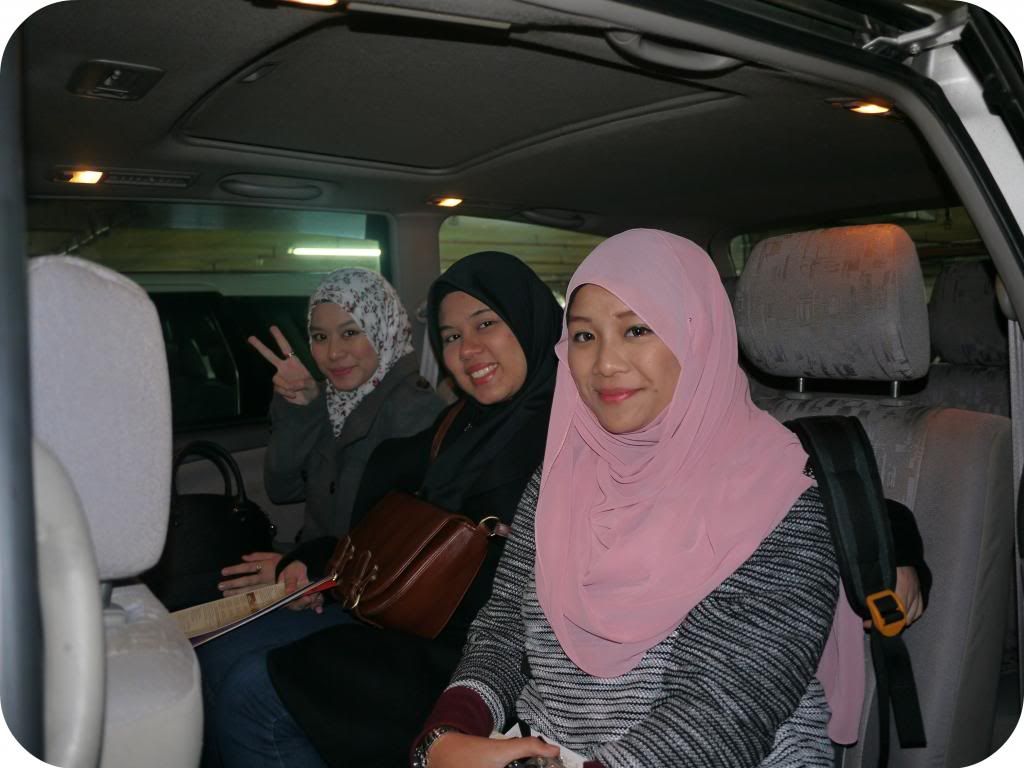 Off to the first destination!
Can you see it???
No? See it now?!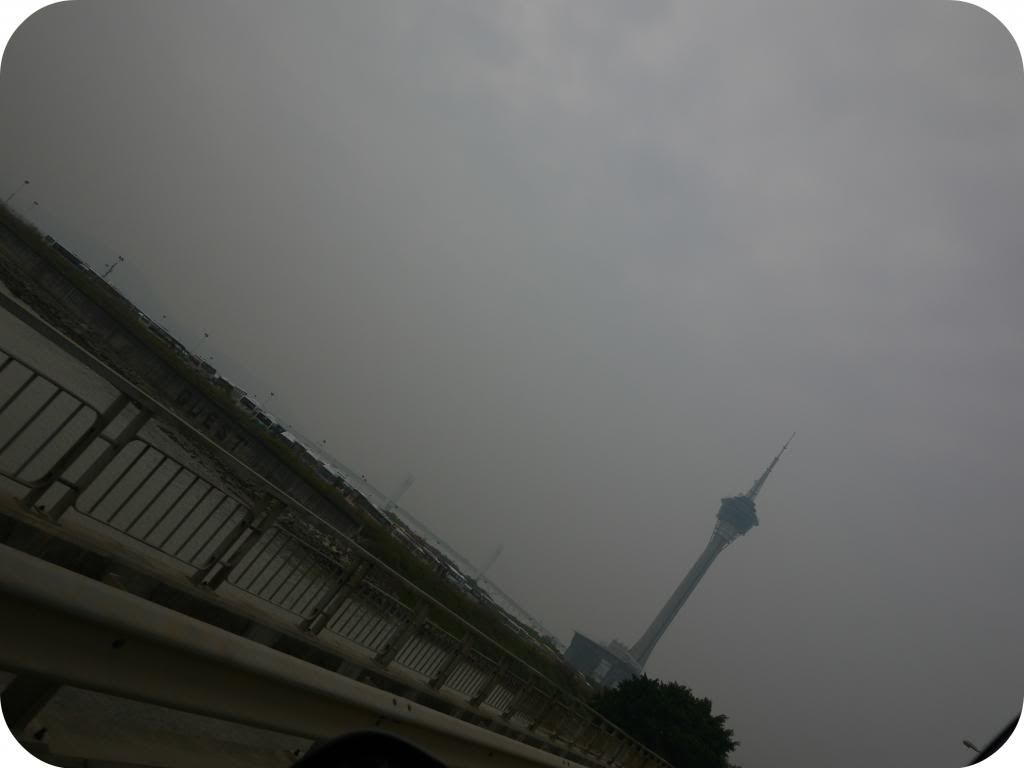 Your trip to Macau is not complete without a visit to this tower - home to the World's highest bungee!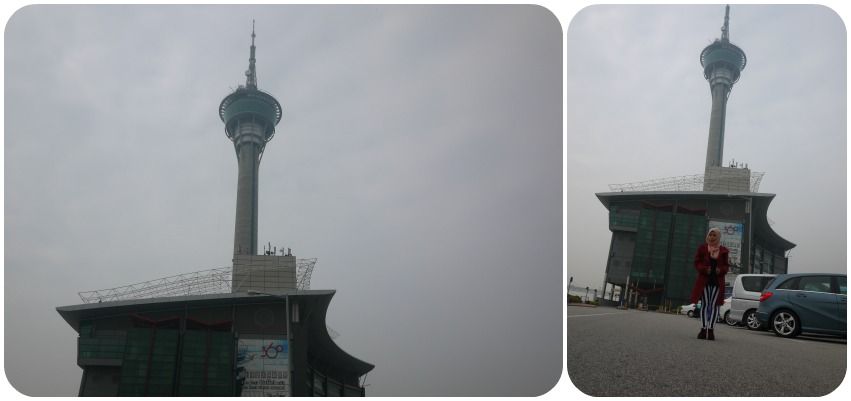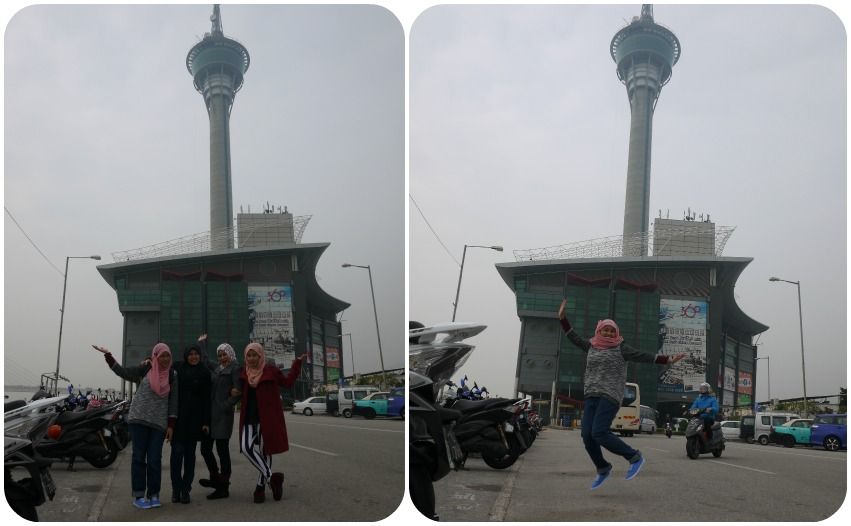 I AM SO EXCITED AS I AM TYPING THIS!
Guess what I am about to do?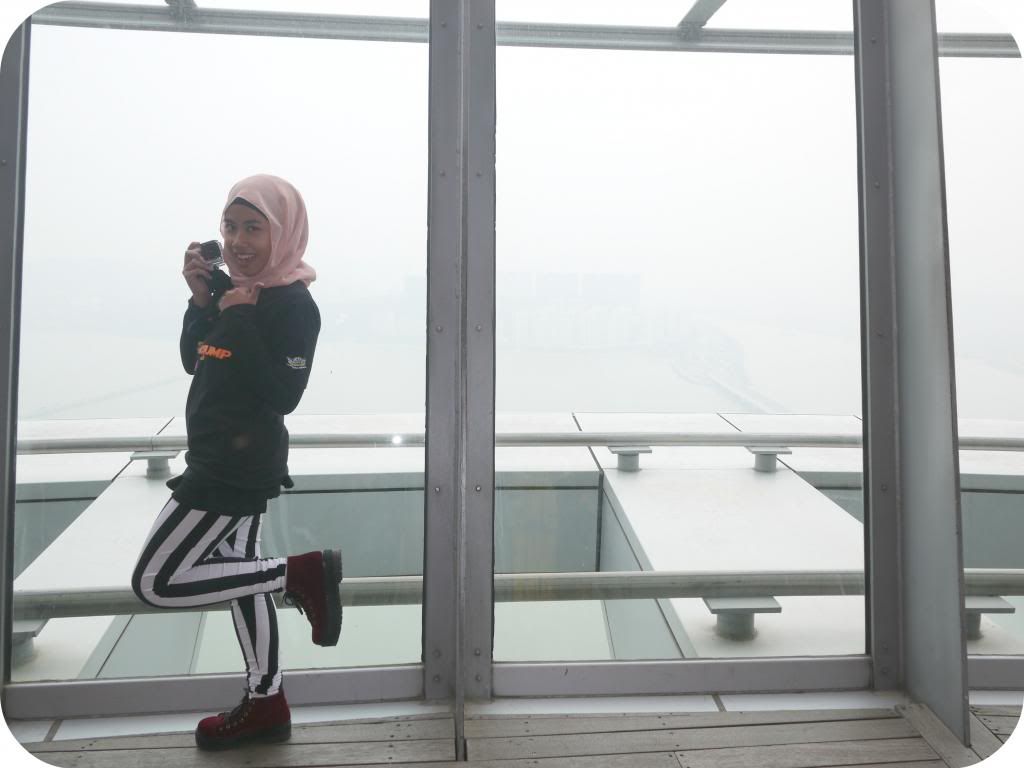 Standing on the 61st storey of Macau Tower and hell yeah, jump off the tower, that's what I am going to do!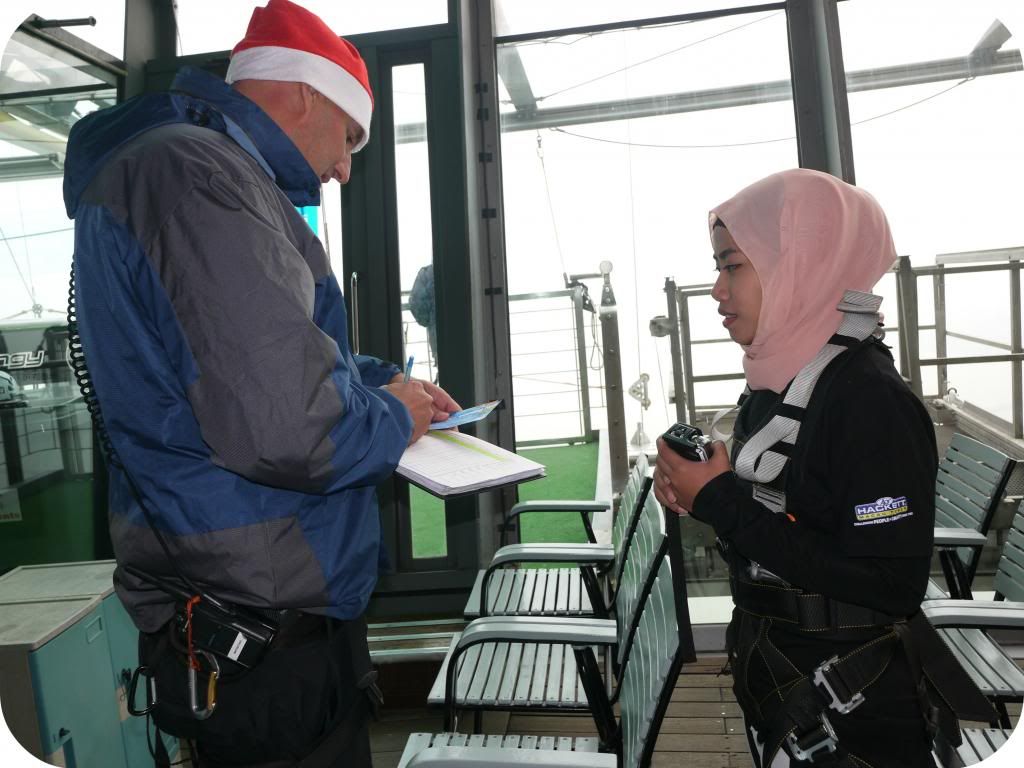 After signing the waiver form (more like a death note). It really feels like I am selling my soul to the devil.

Believe it or not I still wasn't feeling nervous or scared, not even a teeny weenie bit! In fact I was jumping with excitement like a little girl who just got a bag full of candies.
The friendly guy who helped put on my harness and all. & he calls me princess, lol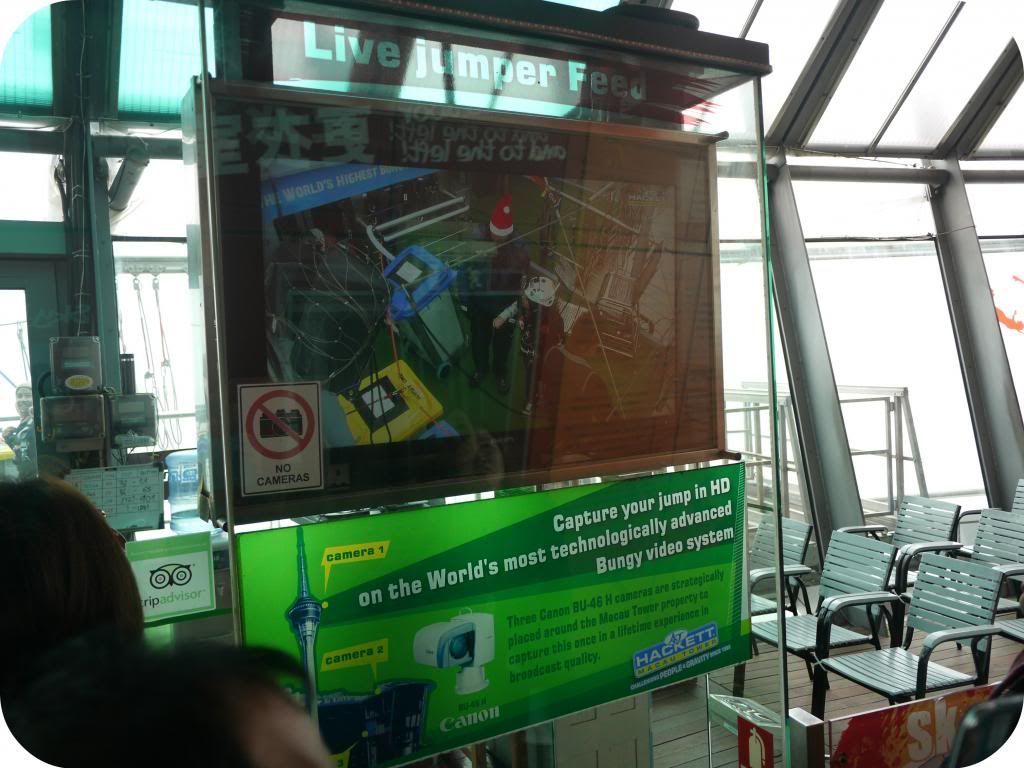 Sarah jumped before me, and people inside the observation deck could see her jump live from this screen. She did the bungee jump and as for me, I did the sky jump. What's the difference, you may ask?
Bungee jump, once you leap off from the platform, you get to experience a free fall before you slow down and rebound back up. For sky jump, it is a one way vertical drop. No free fall as you jump in a standing position.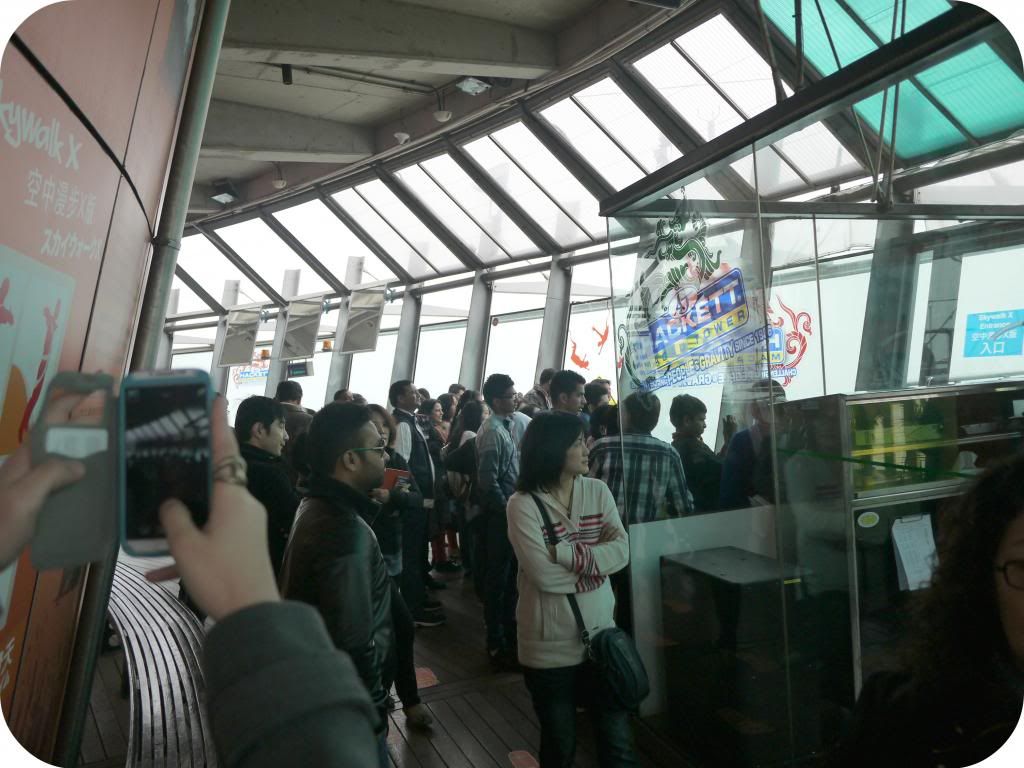 The crowd from the observation deck. Everyone was taking pictures of me and Sarah, and even cheered for us! For a moment we felt like superstars hahaha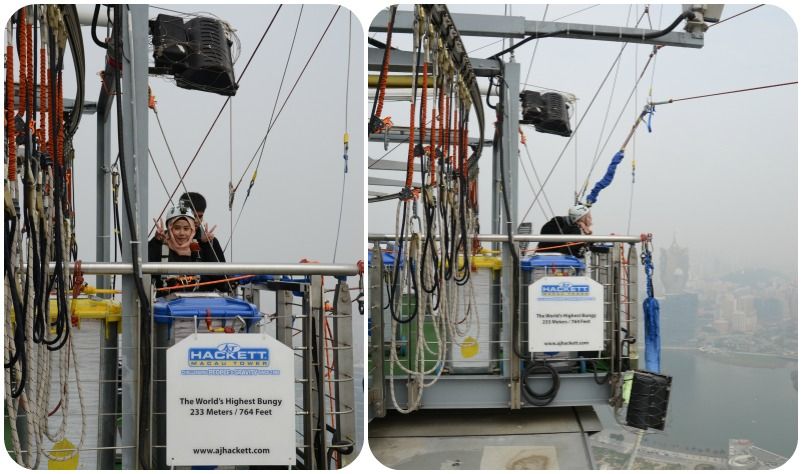 Time for my jump!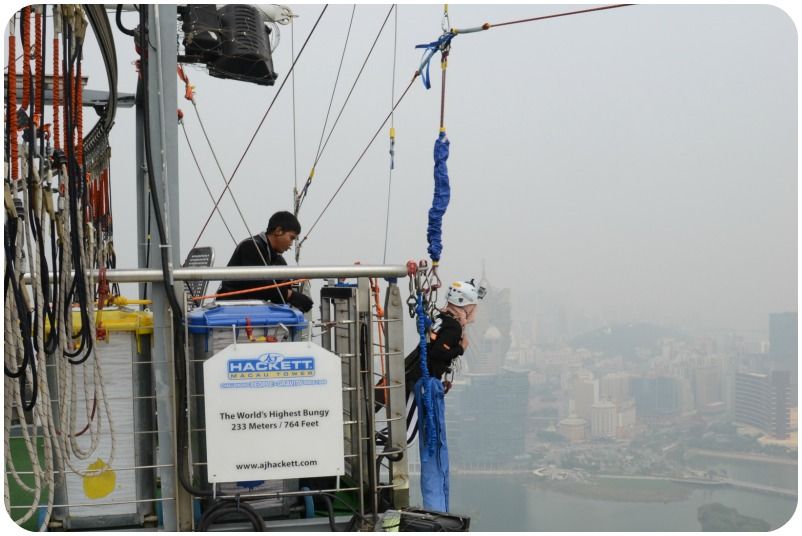 Sky Jump in 3..2...1!!!

I bravely pushed myself off the platform with zero hesitation!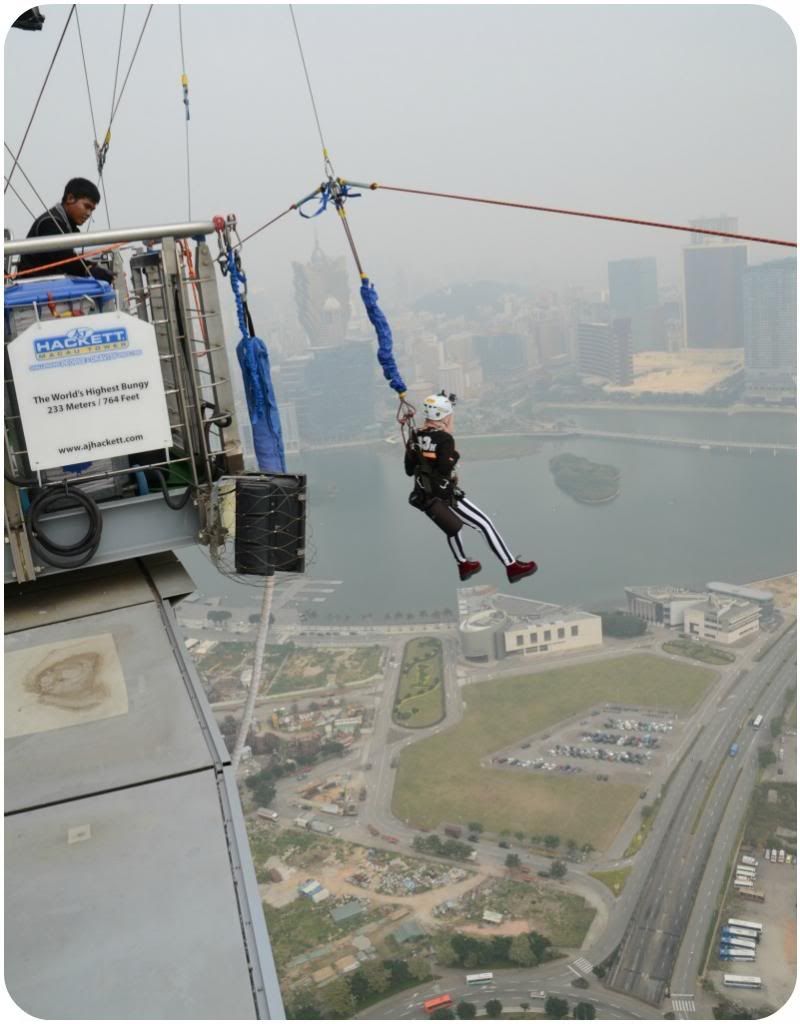 AHHHHHHHHHHHHHH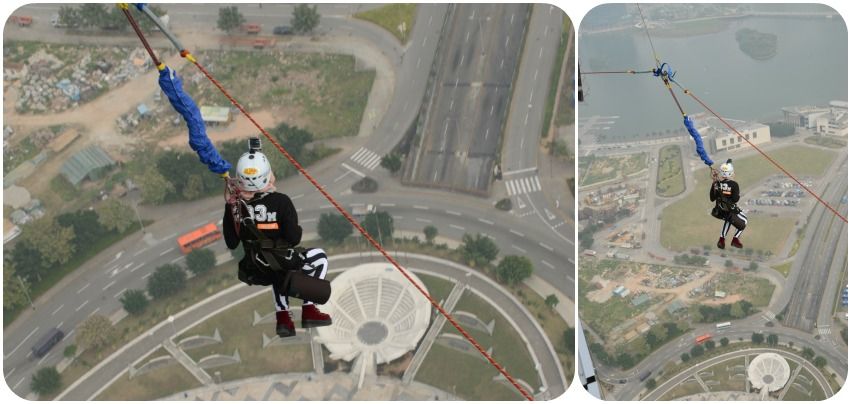 I swear the first few seconds seems like time just stopped. Thankfully it took me really quick to calm down and once I assured myself that I am still alive, I started to enjoy the view.The exhilaration, it was surreal!!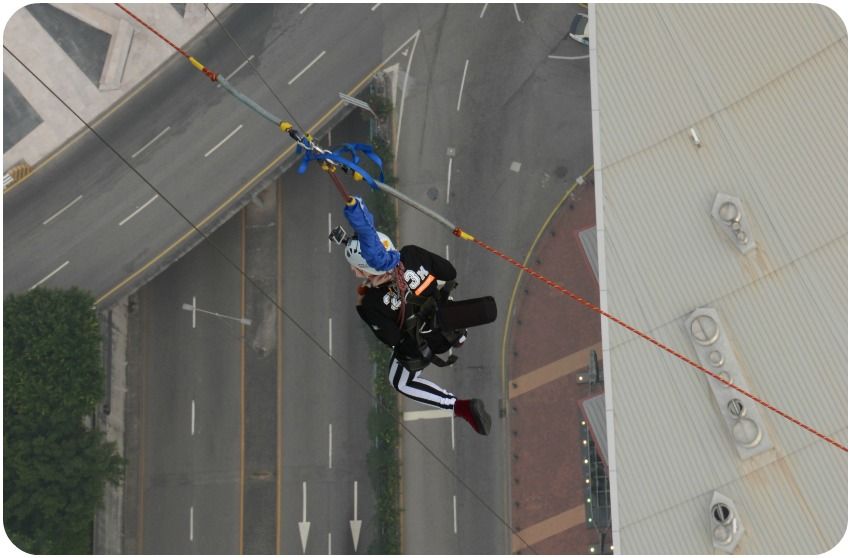 Months ago when I told myself I am going to set foot in Macau for this jump, I was very confident that I will not back out. To be able to make that dream come true really gives me a huge sense of accomplishment!!
Can't wait to edit the videos I have from my GoPro and the one I bought! I've been watching them since I got back & I still can't sink in the fact that I, someone who is terrified of heights, has jumped off a 61-storey tower!

BEST FIFTEEN SECONDS OF MY LIFE, NO DOUBT!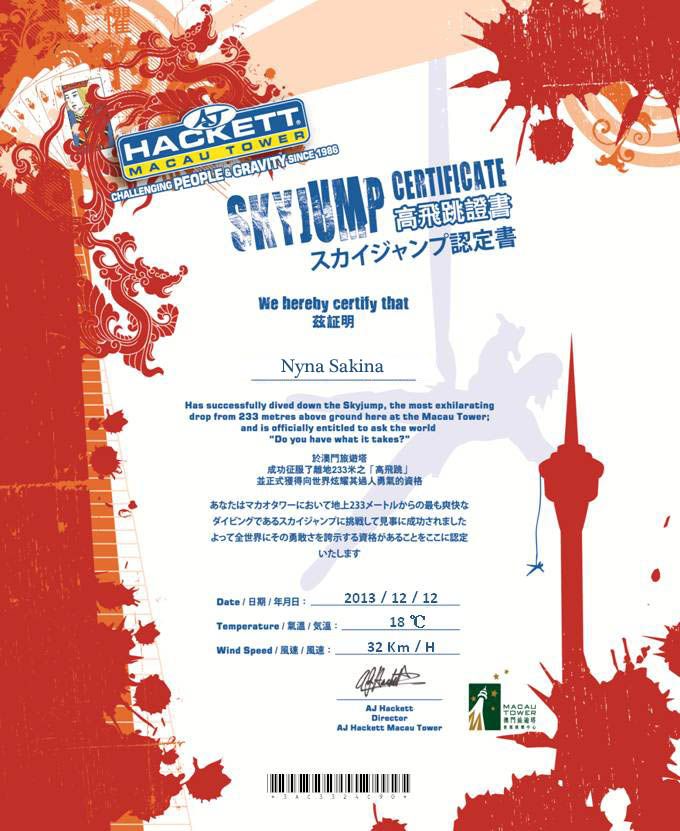 I love the last two sentence - Officially entitled to ask the world "Do you have what it takes?"
Yeah people, do YOU have what it takes?
muahahaha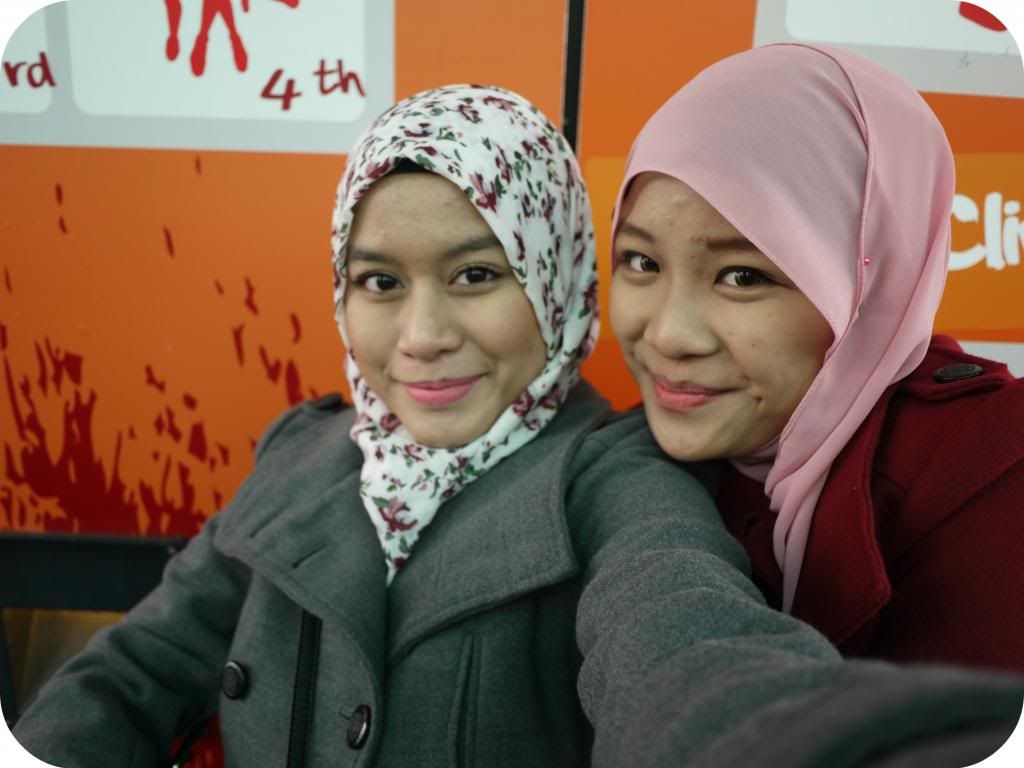 The two girls who were waiting for us for the next (must try!) activity - Skywalk!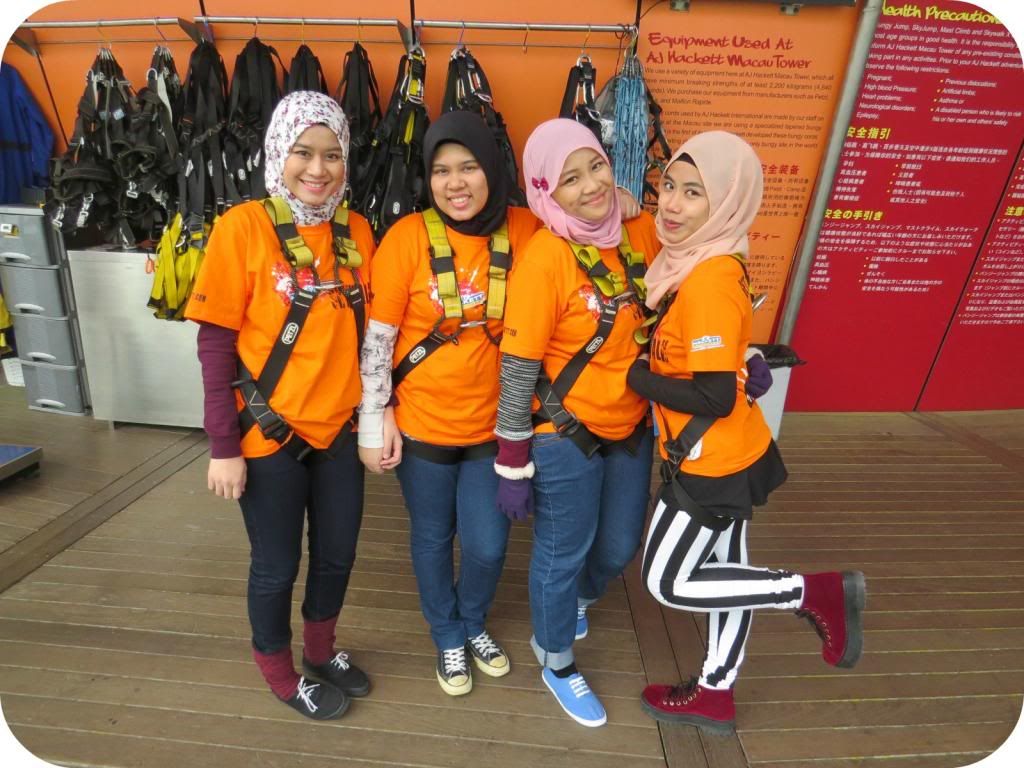 All ready to walk around the outer rim of the tower! Sarah and I were like, "Okay, we jumped off the tower already, this one must be a piece of cake, right?"

Right?

WRONG!
The walkway is only 1.8m wide and as you can see, has no handrail! I tried jumping like what they did on Running Man, and damn that felt a hundred times worst than jumping off the tower, no joke!! Honestly I'd rather jump off the tower anytime. The whole experience seems like we're going through a slow and painful death.
& it is definitely not helping when our photographer keeps on asking us to pose like this :
..... and this!!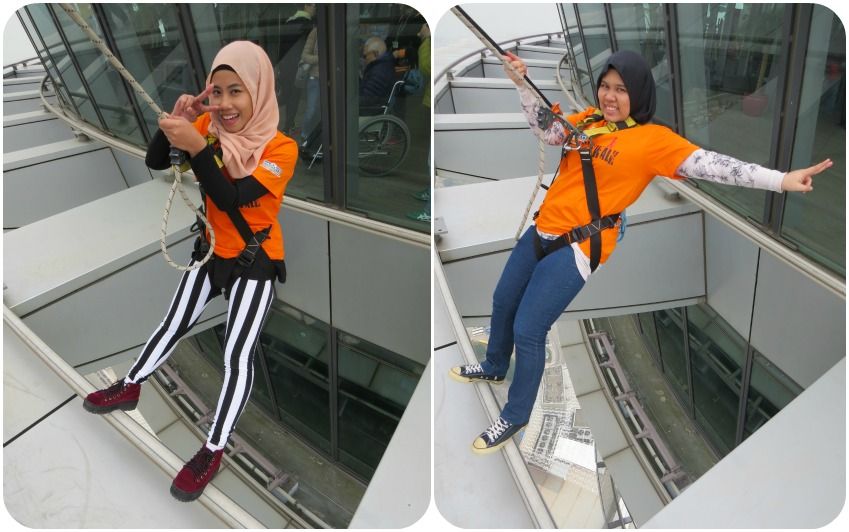 Sure we were smiling but you'll never understand the agony during the process of taking every single picture.

This was the first time I almost piss in my pants posing in front of a camera LOL
I just have to cringe each time I see this picture. Can't stand how ridiculously stupid the photographer purposely made us look! After taking this picture, that freak actually ran while pulling my legs which scared us all to death! We sure put on a good show for the people from the observation deck,who were happily laughing and following us around while taking pictures of us acting silly.


The guy that caused us so much embarrassment. Of course at the same time we're thankful to him for snapping so many beautiful shots of us & making the walk so enjoyable! Okay I can only say that cos it is over now. It was definitely mind torturing during the walk. Haha oppa, I can now truly understand what you felt!

*****
All awkward situations aside, just look at that absolutely breathtaking view!

Look Ma, no hands!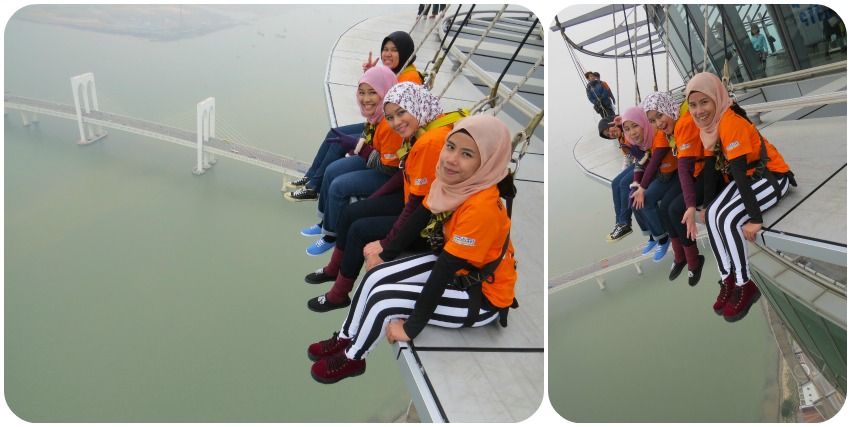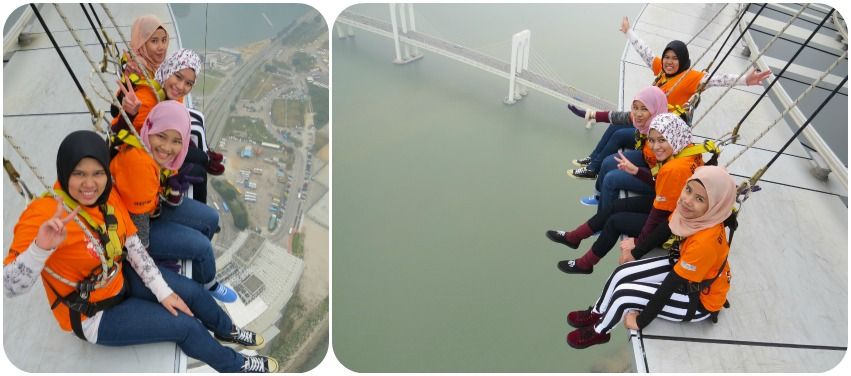 More beautiful shots that I super love!!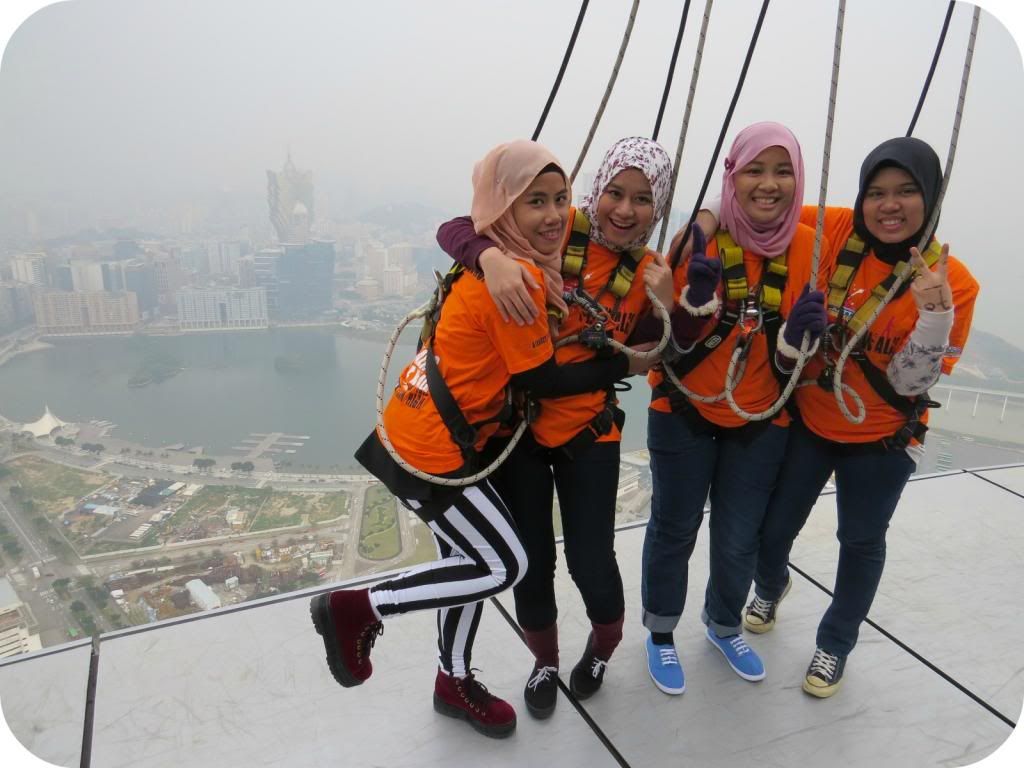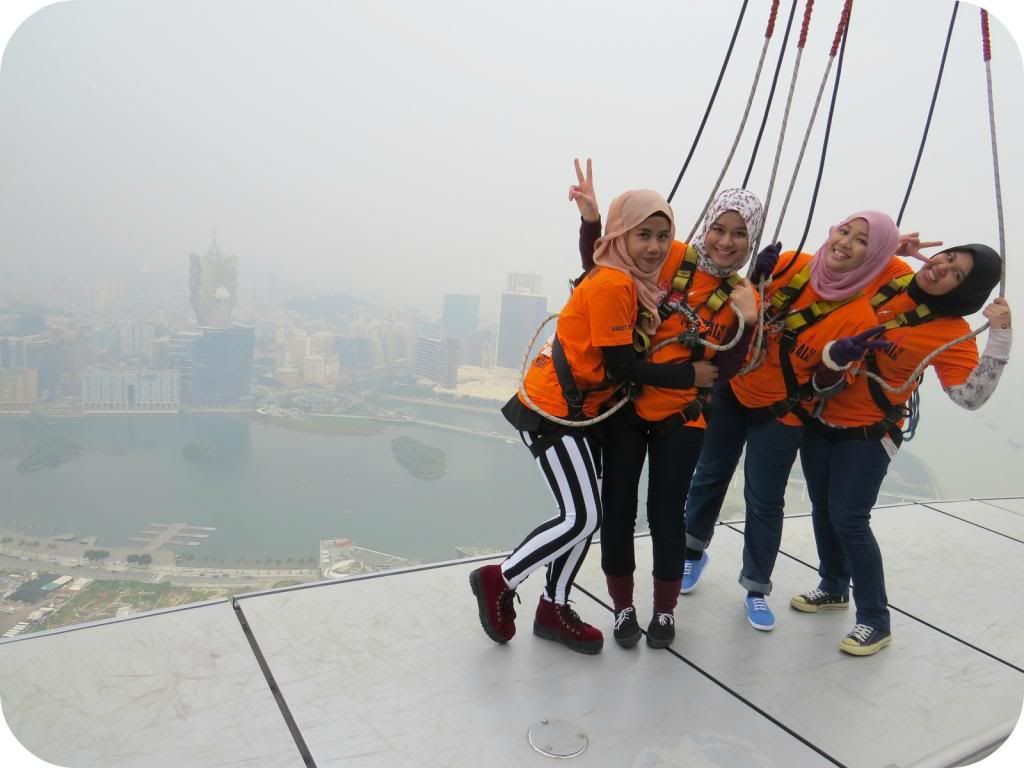 It wouldn't be as fun if it wasn't for their company. You absolutely made everything worth every single cents! Love you girls so much!
ps
: Now that I have the lifetime membership card for AJ Hackett, my new addition to my to-do-before-I-die list is to Bungee/Sky Jump from every AJ Hackett around the world. One of them is opening soon in Sentosa!
pps
: Other than all these, you can also try Tower Climb.&I got my tickets online at
www.macau.com
. Cheap!
xoxo