I was never a fan of K pop. Be it their pop bands(btw how can people differentiate the members in SNSD, Shinee and so on? They all look the same, no?!), dramas/variety shows, I totally know nuts about them.
But that was before my best friends introduced me to Running Man, which I'm glad they did! It was frustrating at first when they keep talking about it, going on and on about how hilarious their every episodes are, so entertaining that it can instantly lift up anyone's mood. After much persuasion from them, I finally watched the first episode circa February this year...
& I was so hooked to it!!
Since then I can finally understand what my girls have been talking about and also join in the conversation, about how cute the Monday Couple is, how annoying the betrayer girin can be, especially when he is paired up with his touch-feel-cross-partner the big nosed hyung, who on the other hand is Jae Suk's sunflower, how childish Haha is always the kid of the group, and how they can't stand the over-confident, arrogant Kookie, which I can't understand why cos this oppa is my fav!
I bet non-Running Man fans who are reading this are probably going wadafark by now lol
Anyway, this show has definitely influenced me and my best friends big time. All those nights we spend doing random missions and running around during the wee hours of the morning, will always be my favourite memories. Though there's obviously no prize to be won for winning the missions that we came up with. & if you remember, we celebrated Hariz's birthday last May the Running Man style, which I've blogged about
HERE
So can you imagine how mega excited I was when I received news that Running Man is coming to Sg!?!?Despite the hardcore saving mode I set myself in for my getaway in December, I didn't even think twice about whether I should go for it or not. & Cat 1 tickets is the only one I want to get my hands on!
Thanks to my babe Noriz who stayed overnight at the Stadium Sistic outlet for this Cat 1 tickets, which was sold out in less than five minutes, you know?! I feel like screaming with joy at my workstation when Noriz send me this picture through whatsapp, which of course I didn't. Just did a mini happy dance lol. I heard that in other outlets, even the person who was 2nd in line couldn't get the Cat 1 tickets, so I am considered lucky! :D
If you don't know, Cat 1 ticket holders are entitled to get one autograph from a random selected member from the Running Man cast! My choice is obviously my one and only, Kookie oppa lol The autograph session was held at Jurong Point by the way, and we got there four hours early!Yup semangat.com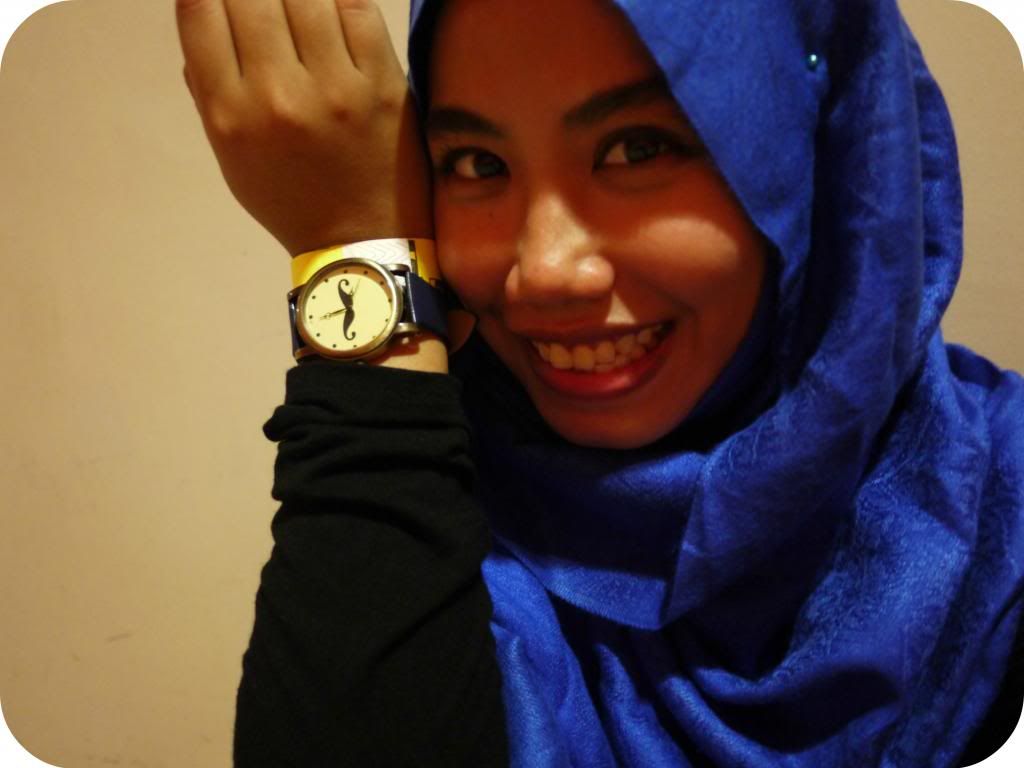 Cat 1 ticket holders received a random coloured tag each which determines whose autograph they'll receive.
& I look like an over-excited freak, I know....
With Noriz and her cousins.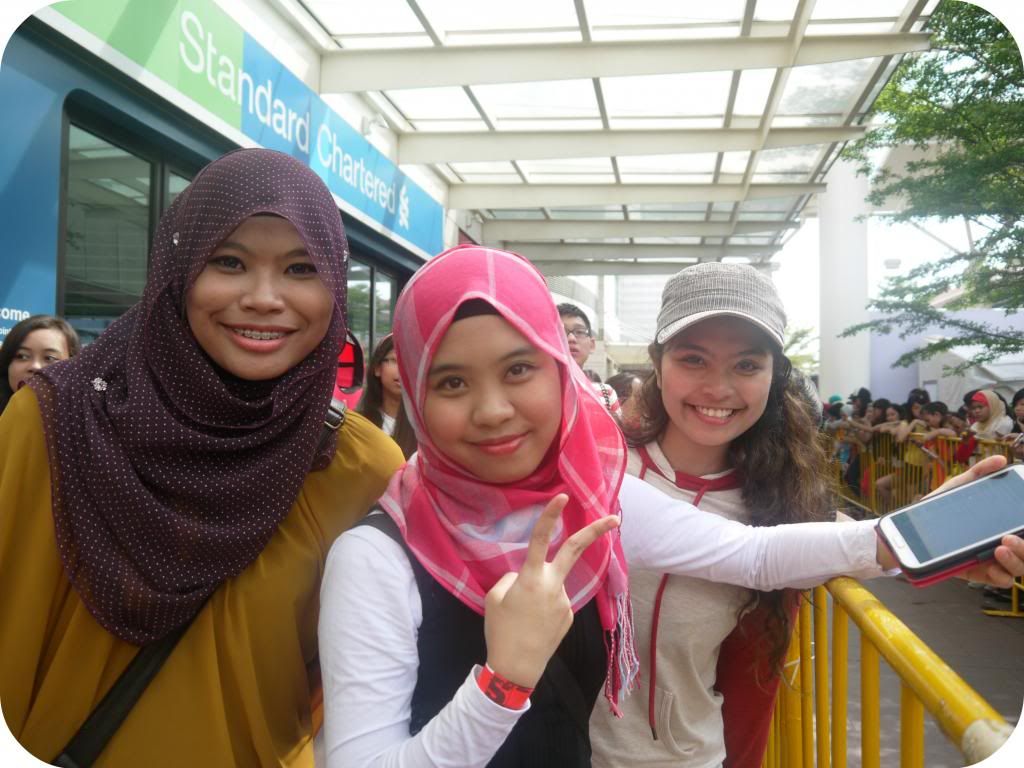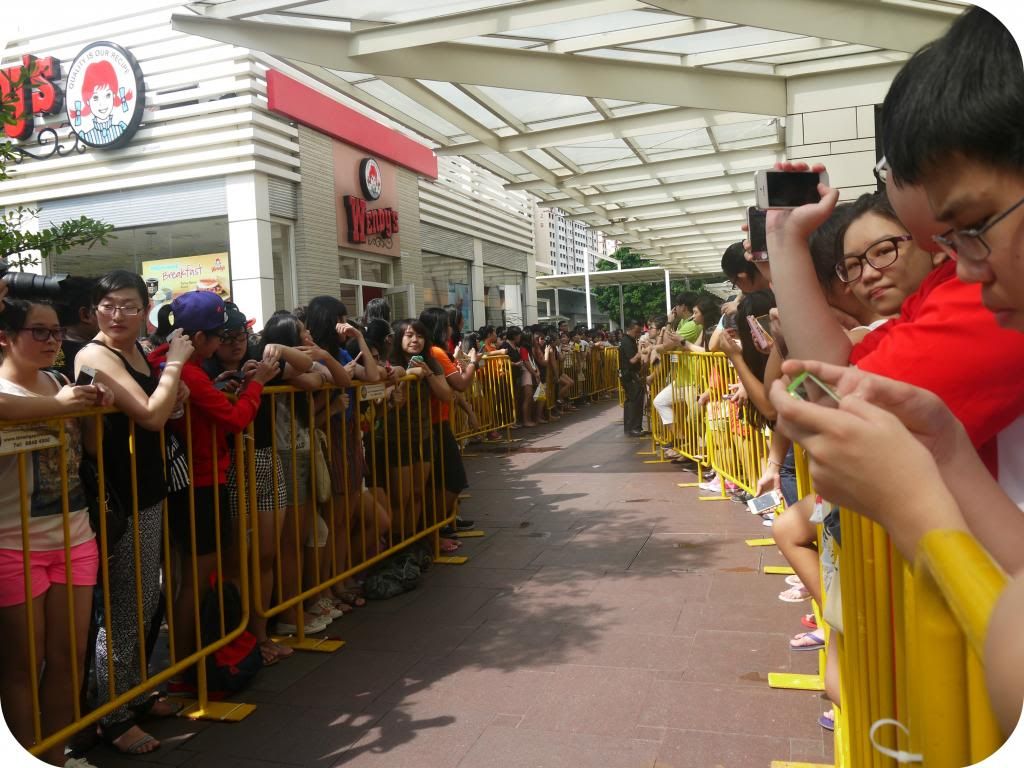 While waiting for the cast to arrive. The crowd was so packed & crazy, someone even passed out.
Finally after hours of waiting and waiting, they are here wohooooo!!

Can you spot the Monday boyfriend!!!!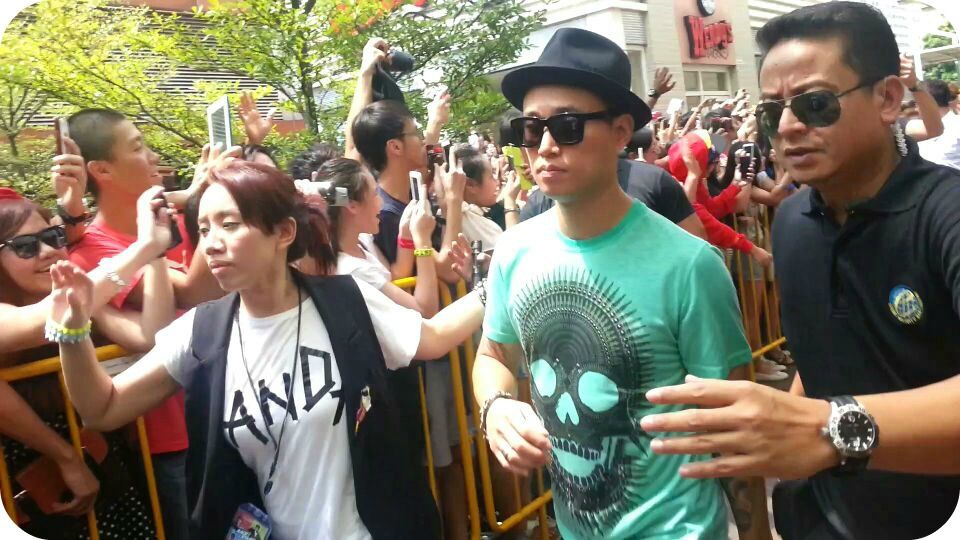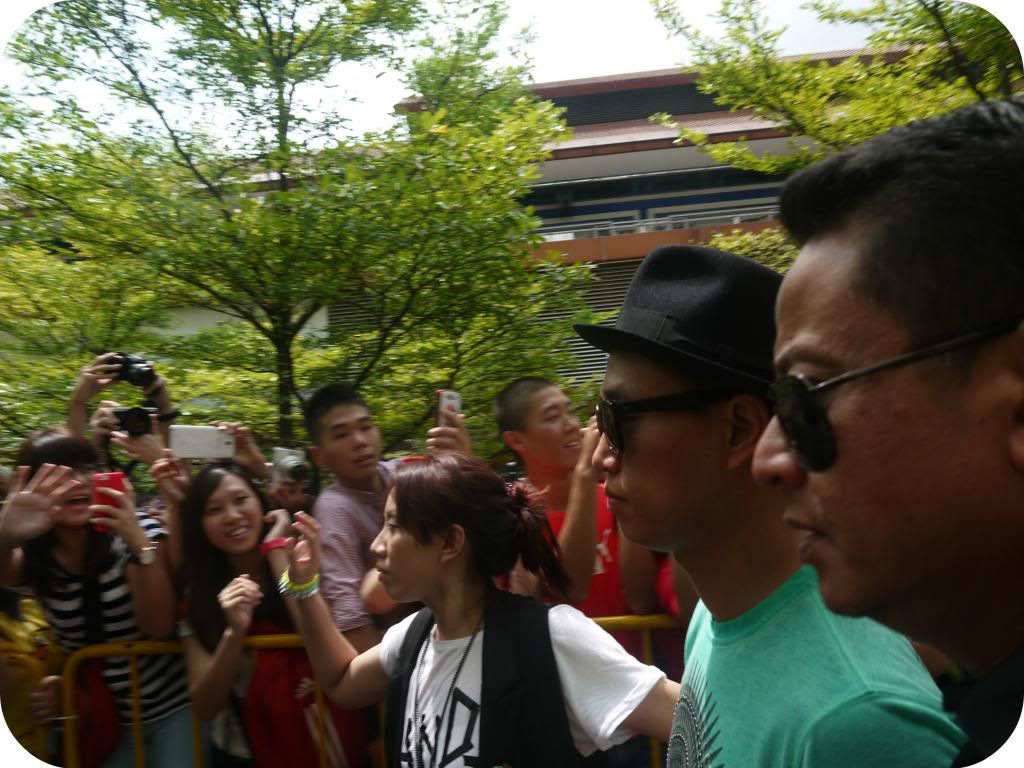 Kang Gary!!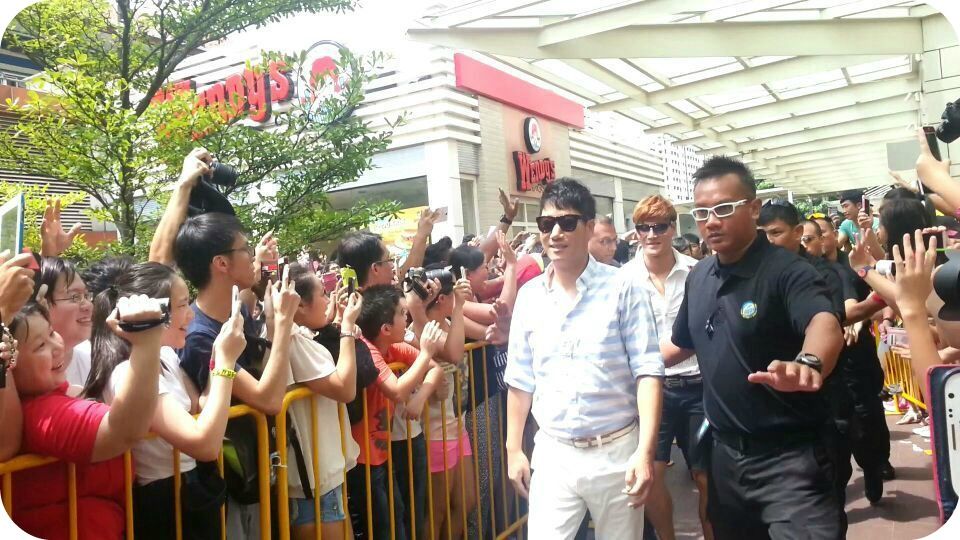 Ji Suk Jin!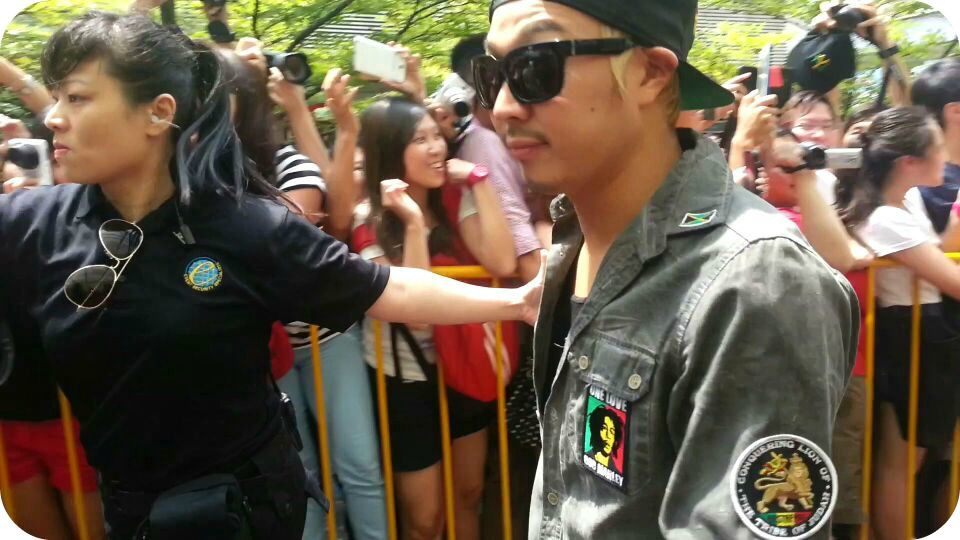 Ha Dong Hoon!!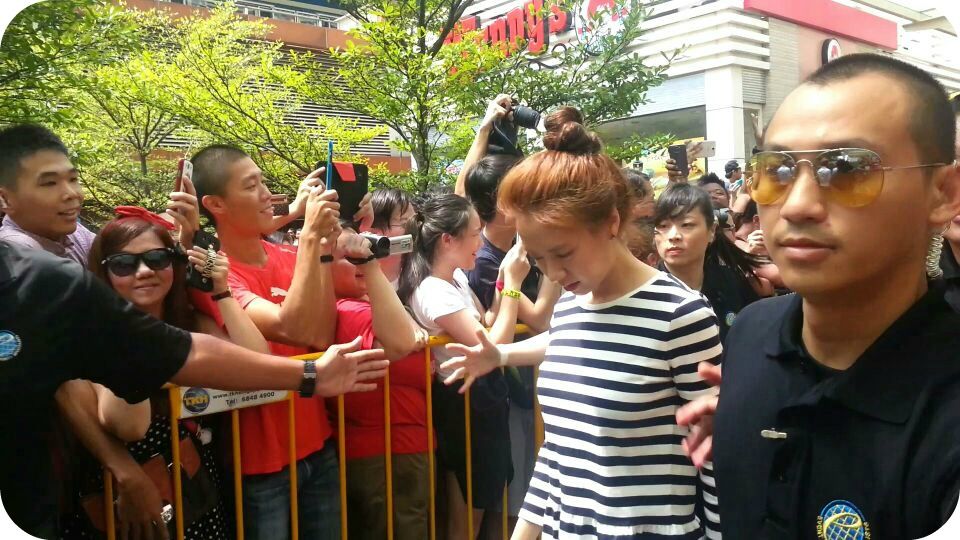 Song Ji Hyo our ace!
& last but definitely not the least, my darling Kookie oppa!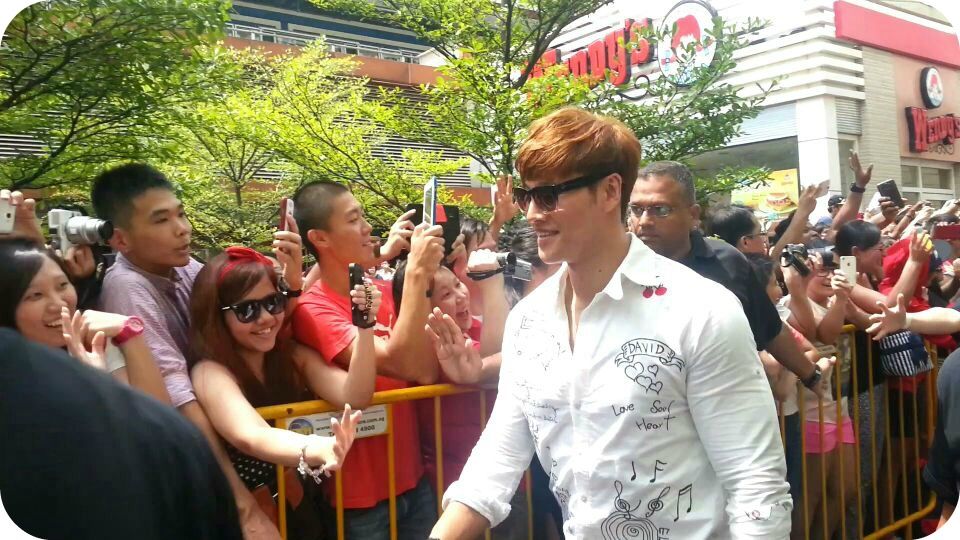 KIM JONG KOOK!!!
Exactly my expression when I saw him THAT close lol
*****
The moment the cast walked away, I turned around and saw the girls already hurriedly ran off without me -.-

Can't see them on stage cos
I'm too short
the crowd was crazyyyyyy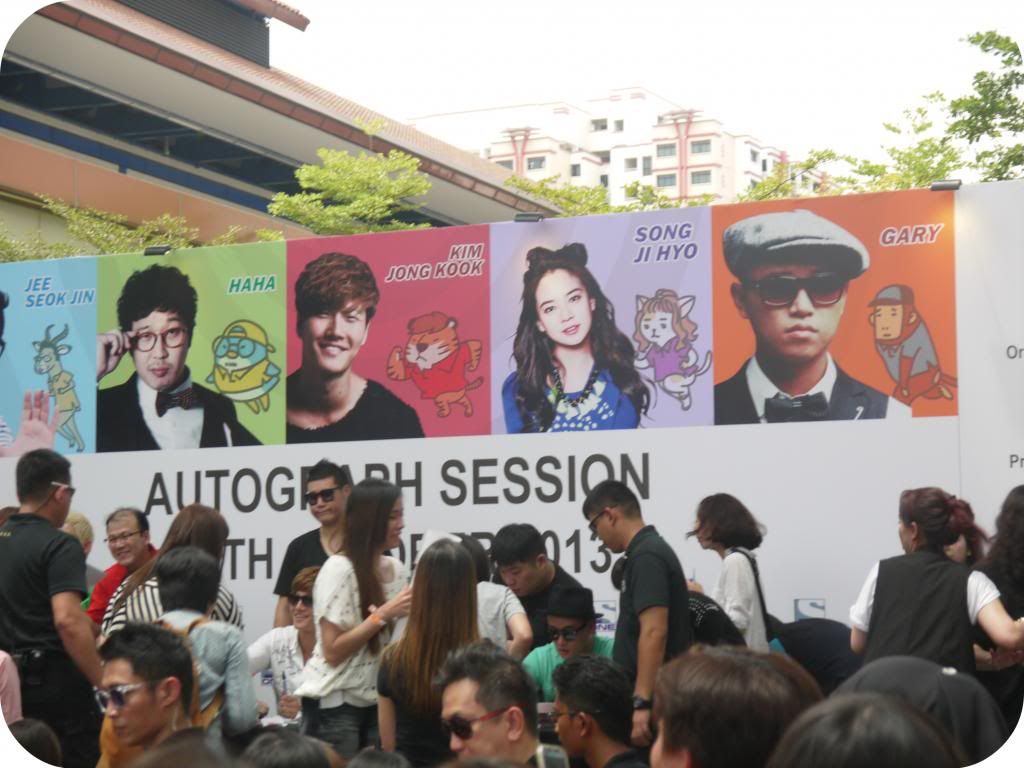 Bit of Gary and Kookie!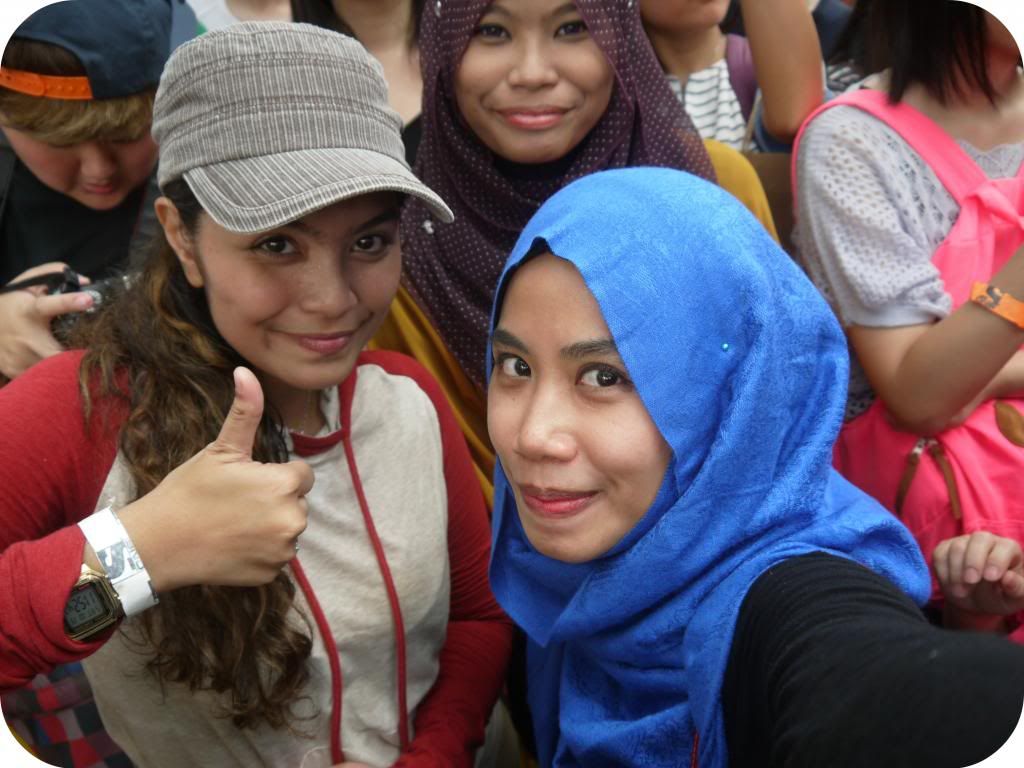 While discussing on what we should say to the cast when we're on stage. Very excited, you know?

Super cute Monday girlfriend who is as 'mong' in reality as she is on the show.
So in the end I got Gary's autograph, which I'm still happy for even though it wasn't my Kookie. Anyway did I tell you about how we girls were preparing on what to say to the cast on stage? Well guess what, the moment Gary reached out his hand and said hello to me my tongue gets tied :p Starstruck-ed? Definitely! I wanted to ask for a hug but the security pulled me back. Boooo!
Noriz's cousin was lucky to get Kookie's autograph AND a hug. Jealous.
*****
Fast forward to seven p.m that day at Singapore Expo for the fan meet!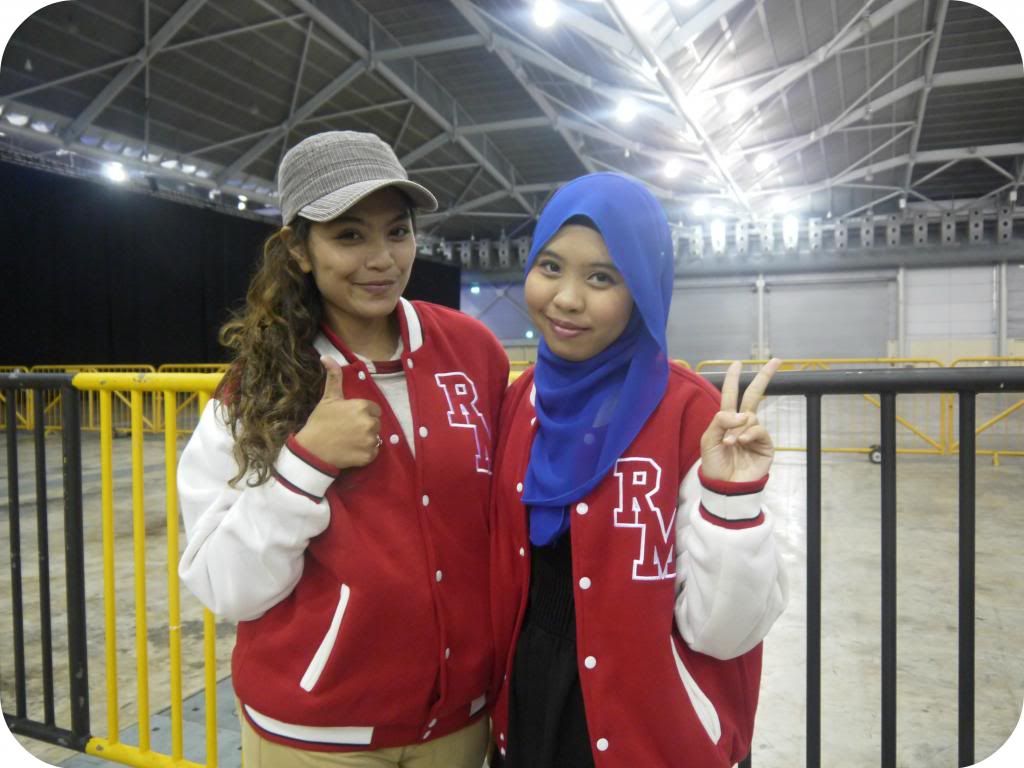 The girls bought Running Man jackets which also comes with the name tag at the back. I didn't get one because by the time I reached there only size M is available.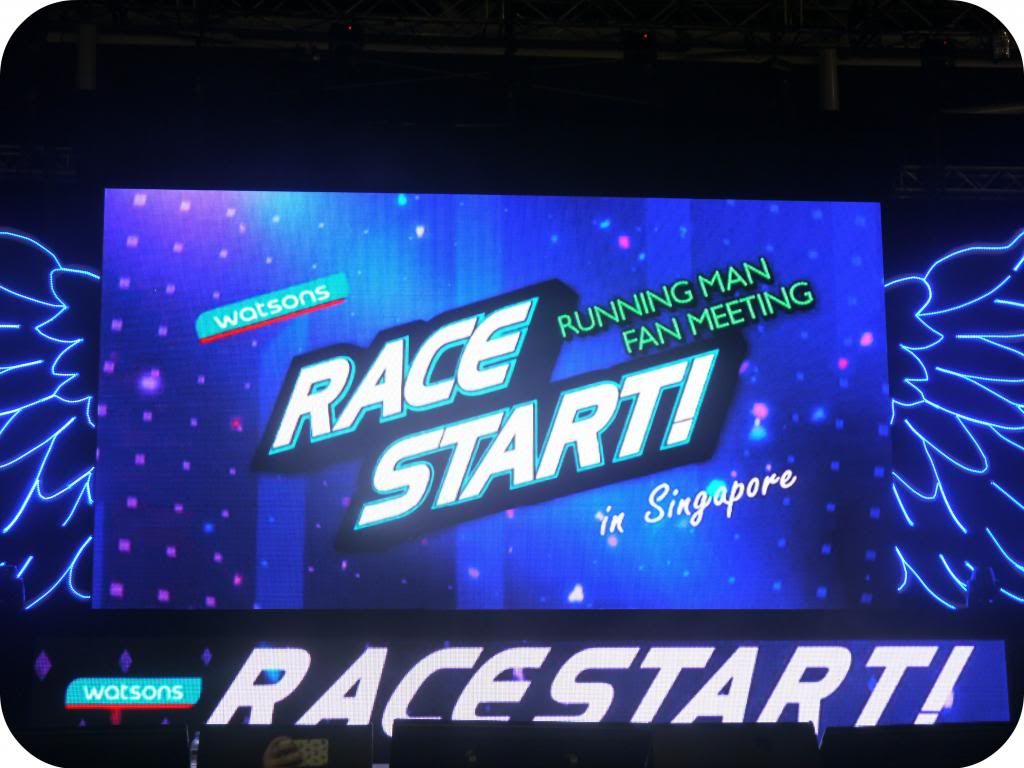 & here is the stage!!
Have I mentioned that we get the best seat in the house? We're right in front of the stage seating at the second row. Don't have to watch the screen or even squint cos we got the perfect view of everything!
The five of them kickstart the show by singing the OST from Boys over Flower, Almost Paradise. I only have my eyes fixed on the one and only...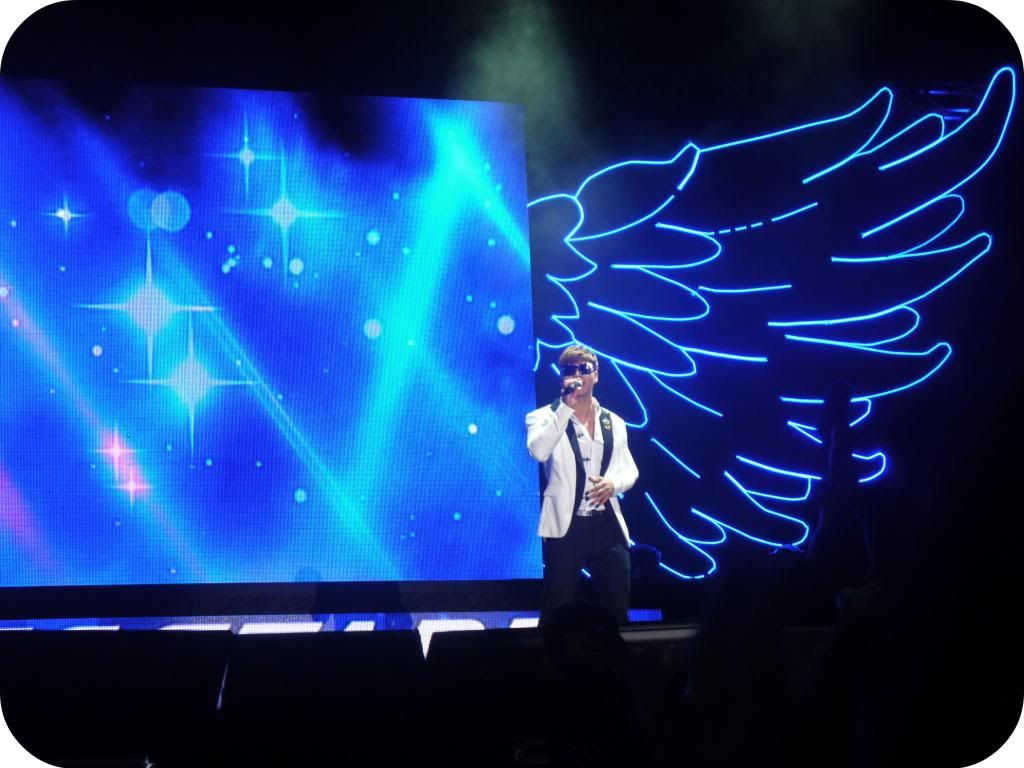 .... of course, who else :D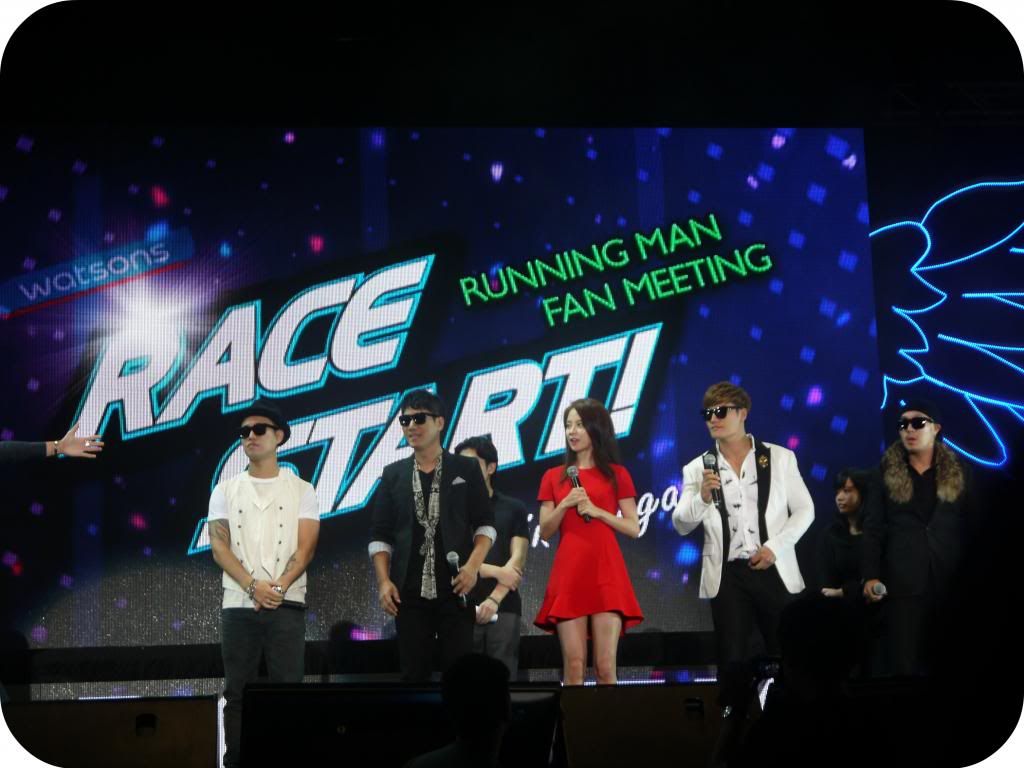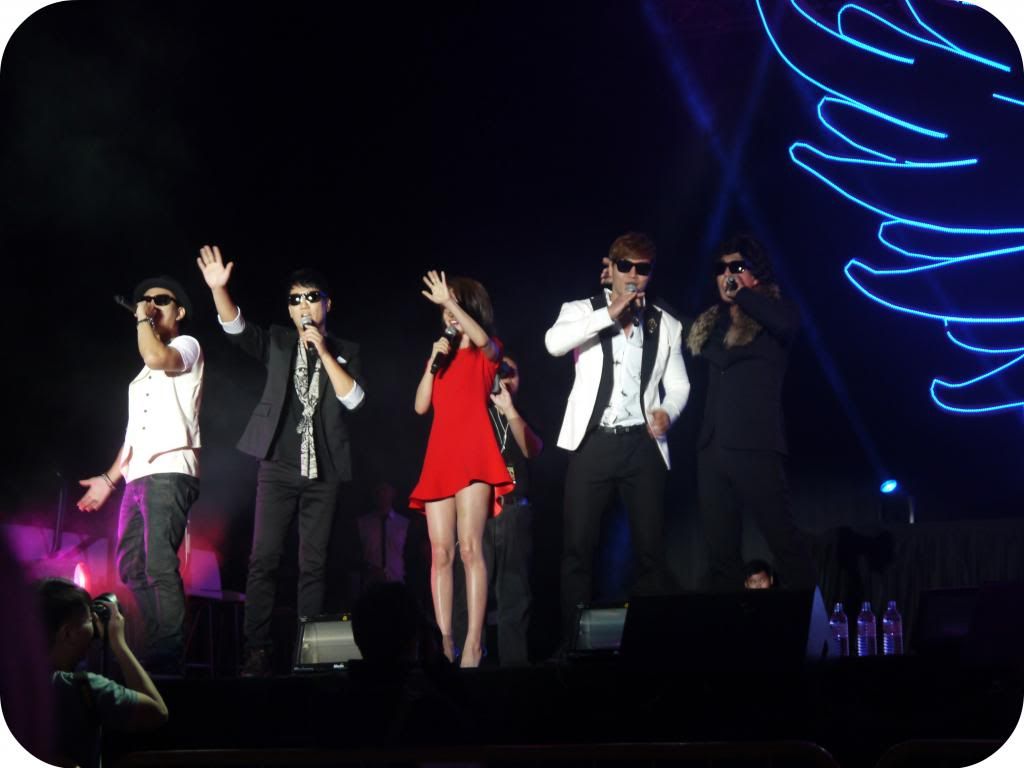 Here they are, all five of them. Annyeong!!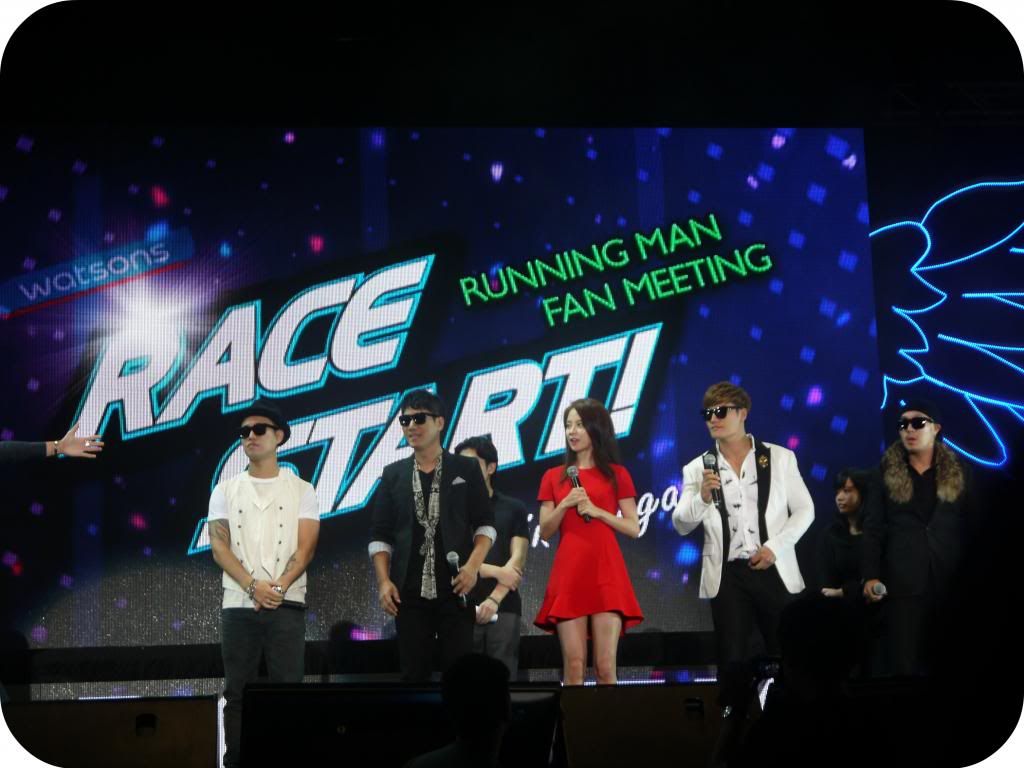 The host had a quick Q & A session with each of the members..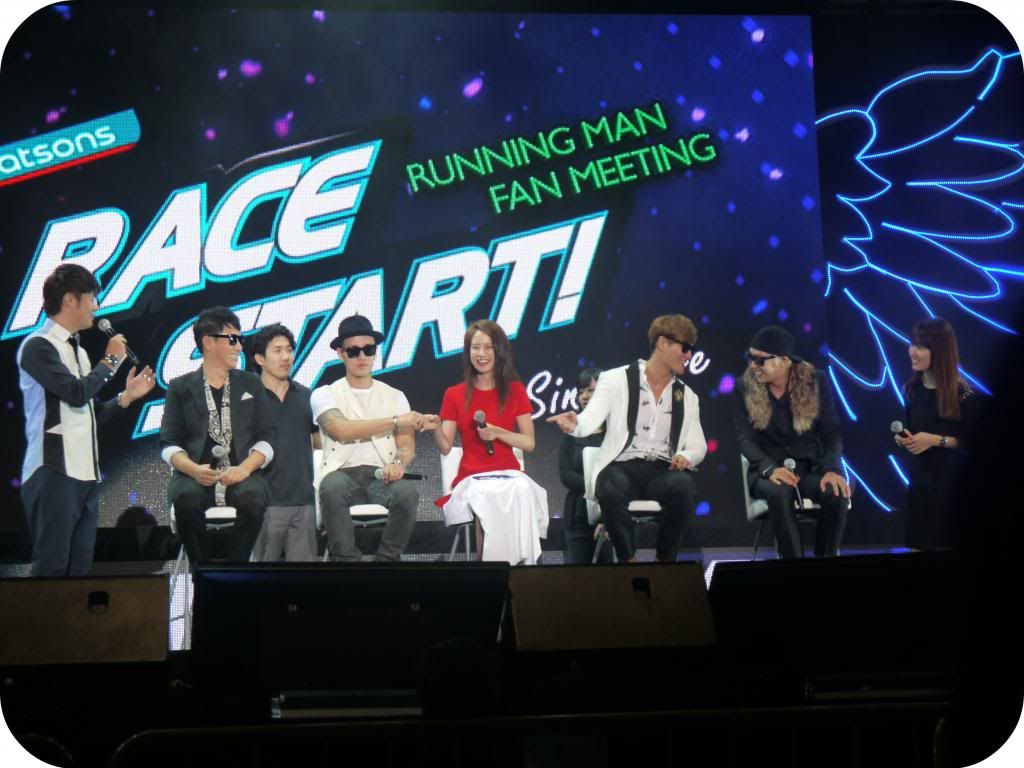 .. and here's a Monday Couple moment. Suk Jin switched seats with Gary so he can sit next to Jihyo. Everyone was chanting "BHO BHO!" ( kiss, kiss) which made the Monday Girlfriend blush so much!

More Monday Couple moments during the game session with the lucky fans. This one here is during the chained charades.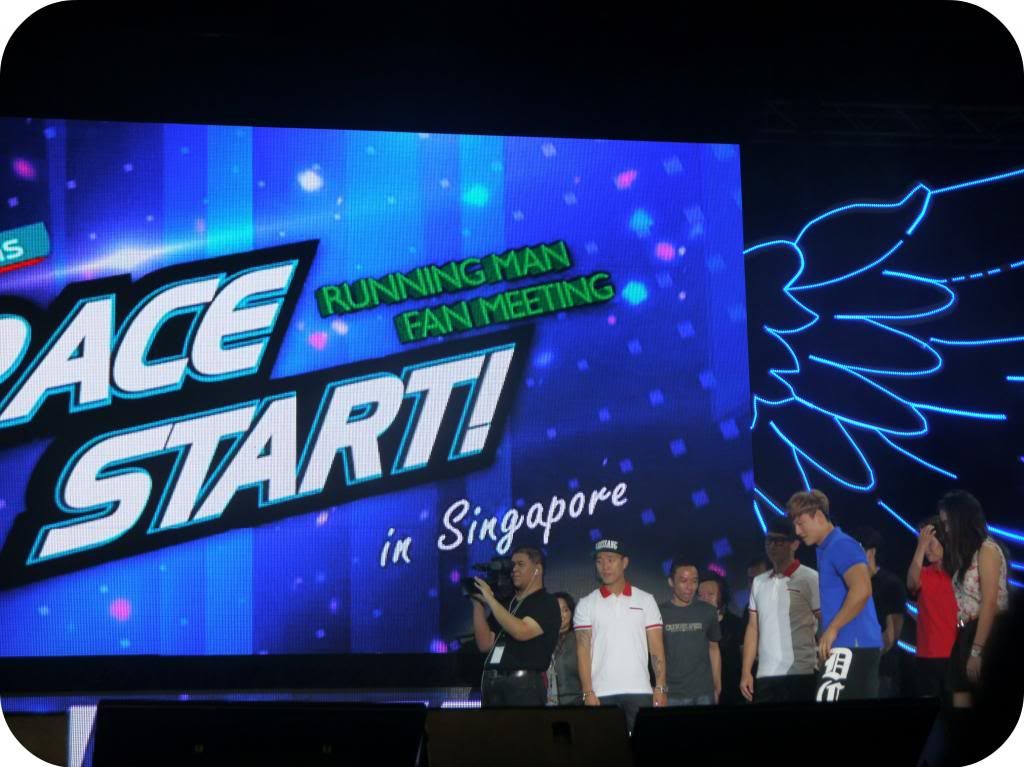 Sparta Kookie doing his thang in the next game.

The cast each picked out three lucky fans to join them on stage to dance. BLEARGHHH
The couple dancing to Gangnam Style.
After the games it was time for their individual performance but before that, the charming girin appeared on screen to greet his fans.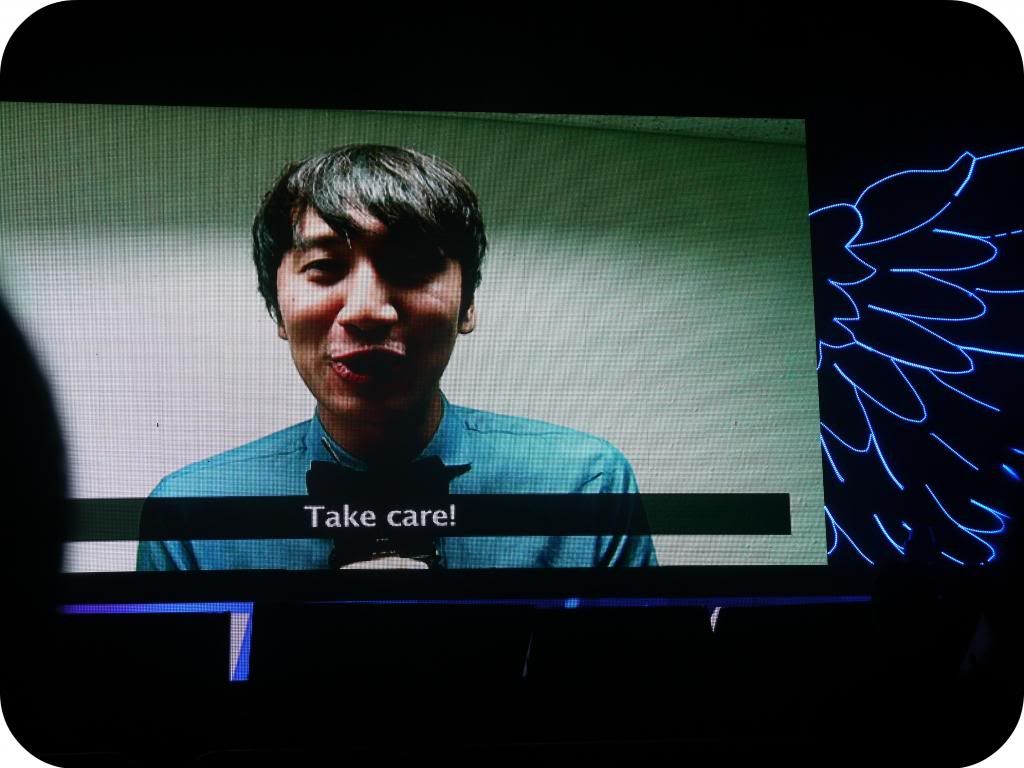 First up, Impala Hyung with the song that will always remind me of him "I Swearrrrrrrr"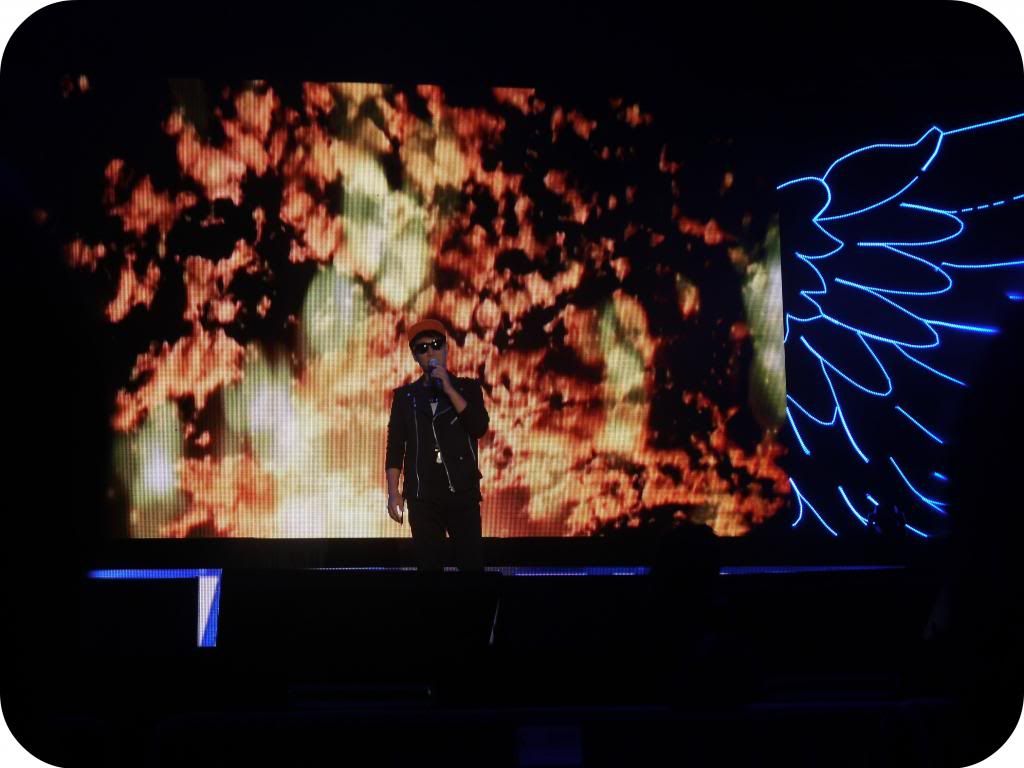 I have to admit that I was impressed with his voice!
Then it was Gary's turn who sang his hits songs "You're the answer to a guy like me" and "Can't breakup girl, can't breakaway boy". At one time, he went down the stage & the lady in front of me dashed towards him for a hug!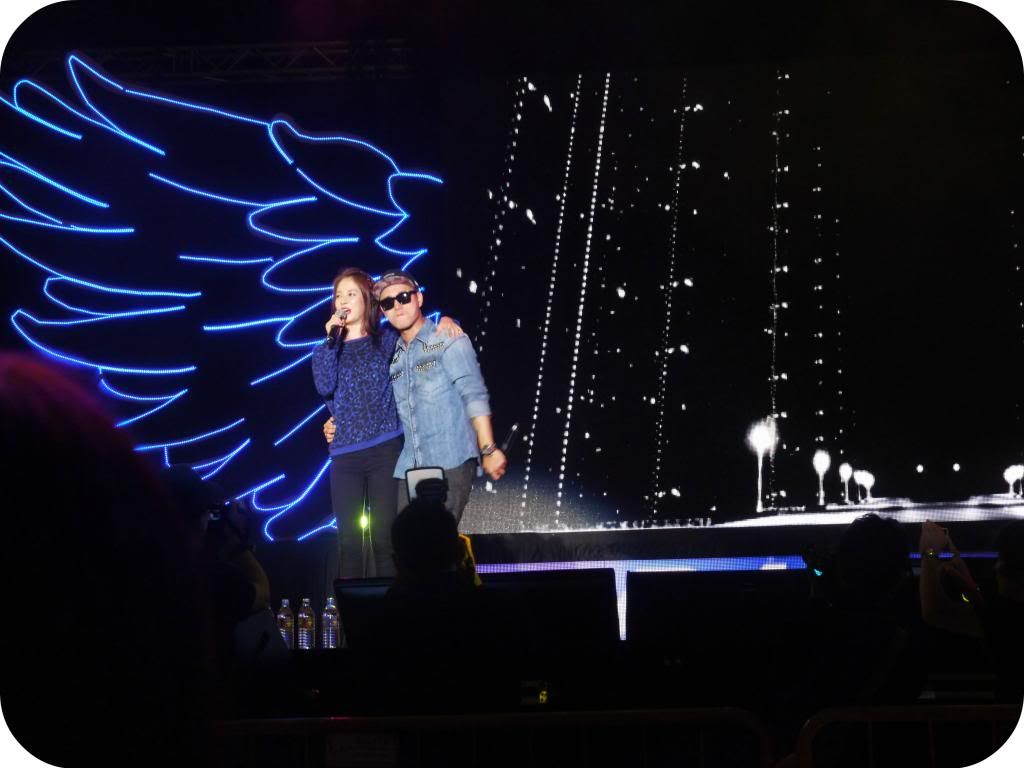 Jihyo sang "Turned off the TV" with him after that. Ohhh the feels!

Then comes my favourite part, which is Haha's. We all know how childish he can be during the show but he really showed a side of him I've never seen during this performance. It was really energetic and everyone started getting off their seats and dance! I was also jumping around while singing along to his songs "Rosa" and "Busan Vacance"
Saving the last for the best...

I was swooning over his voice, so perfect for a lullaby! Such a darling you are, teehee.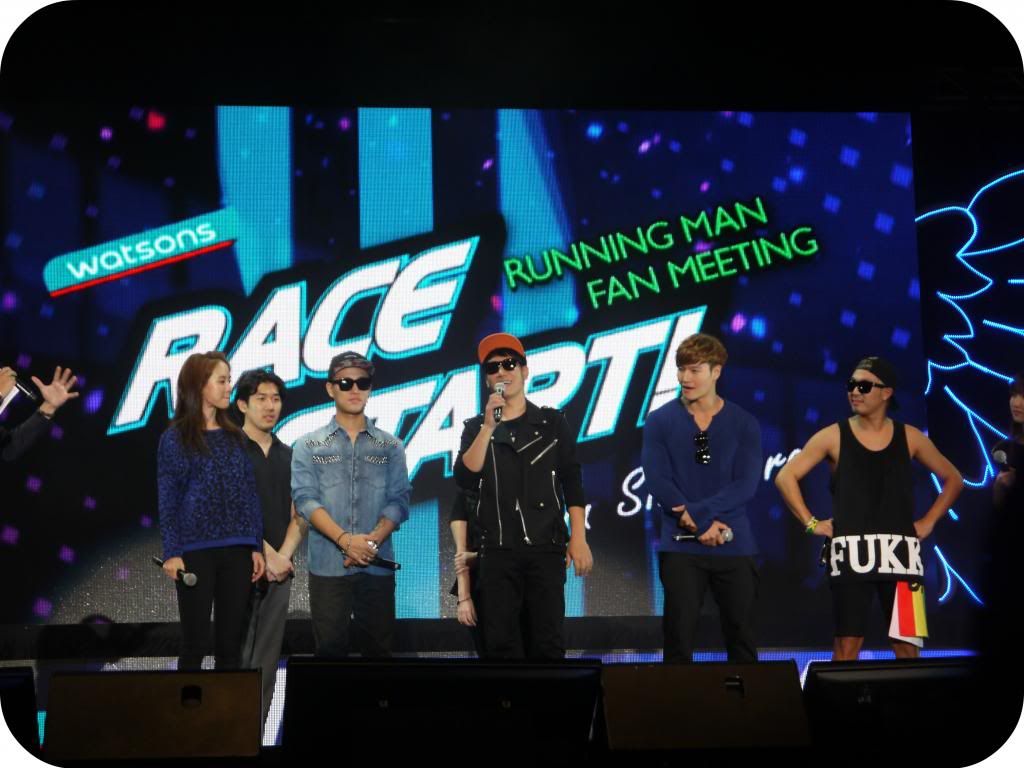 The host had a quick chat with the cast before the finale performance.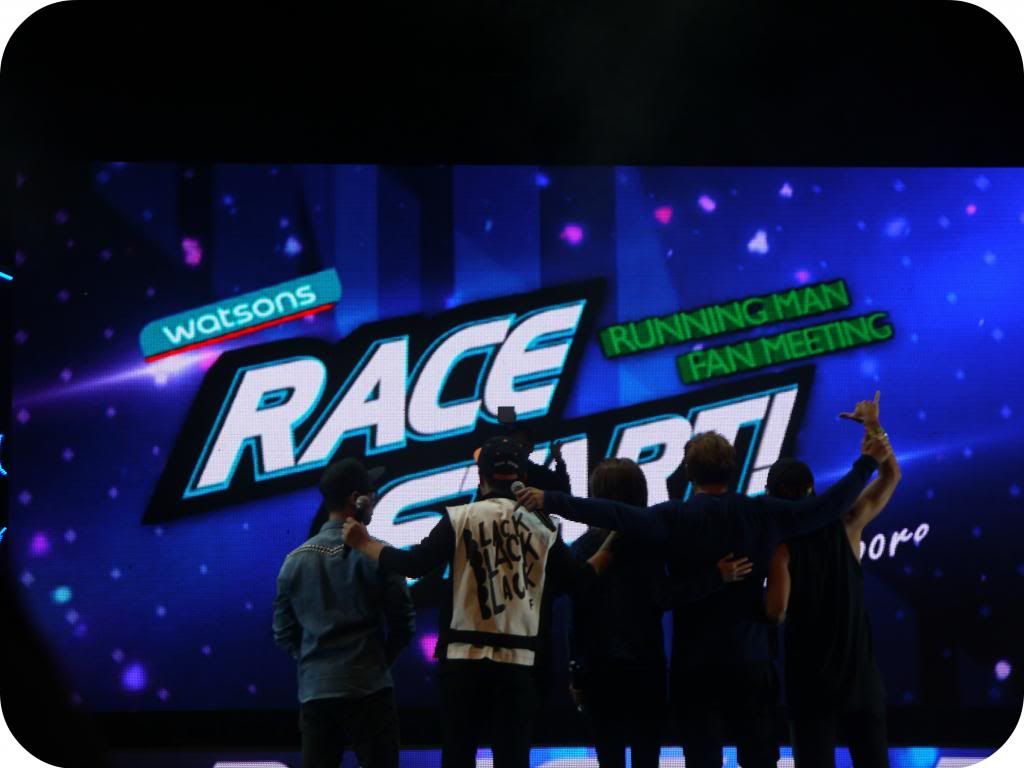 Group shot with the fans in the background.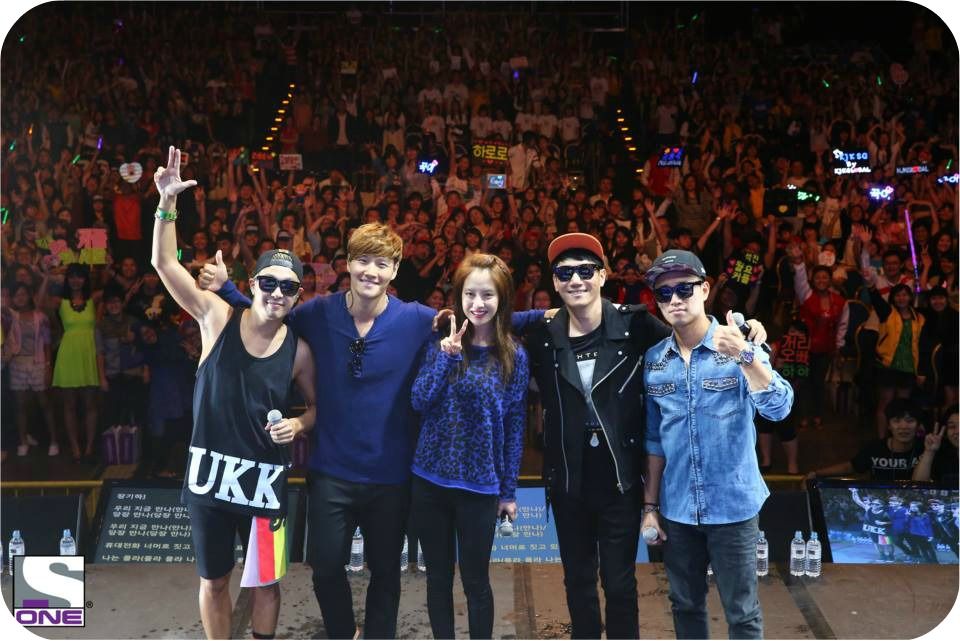 Picture Credit : ONE TV ASIA
THE FINALE!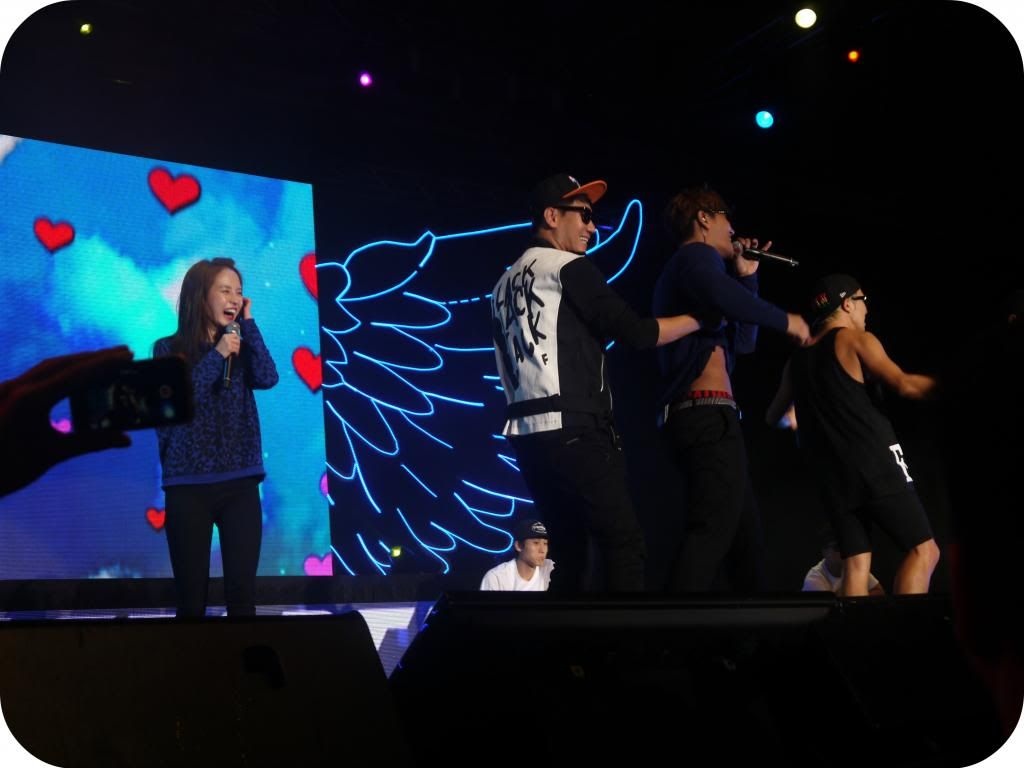 Look at Suk Jin lifting up Kookie's top! Later there's a few times that Kookie himself showed off his sexy abs wooohoo!
Halfway during the performance, Haha stepped down the stage and also lifted up a bit of his top. & Noriz's cousin sitting next to me went berserk and rushed towards him and started touching that body of his and I just have to join her! Eventually everyone get off their seat and rushed to the front of the stage, much to the security guards' displeasure but too bad they can't do anything to stop us muahaha.
Love this pic hahaha
Picture Credit : ONE TV ASIA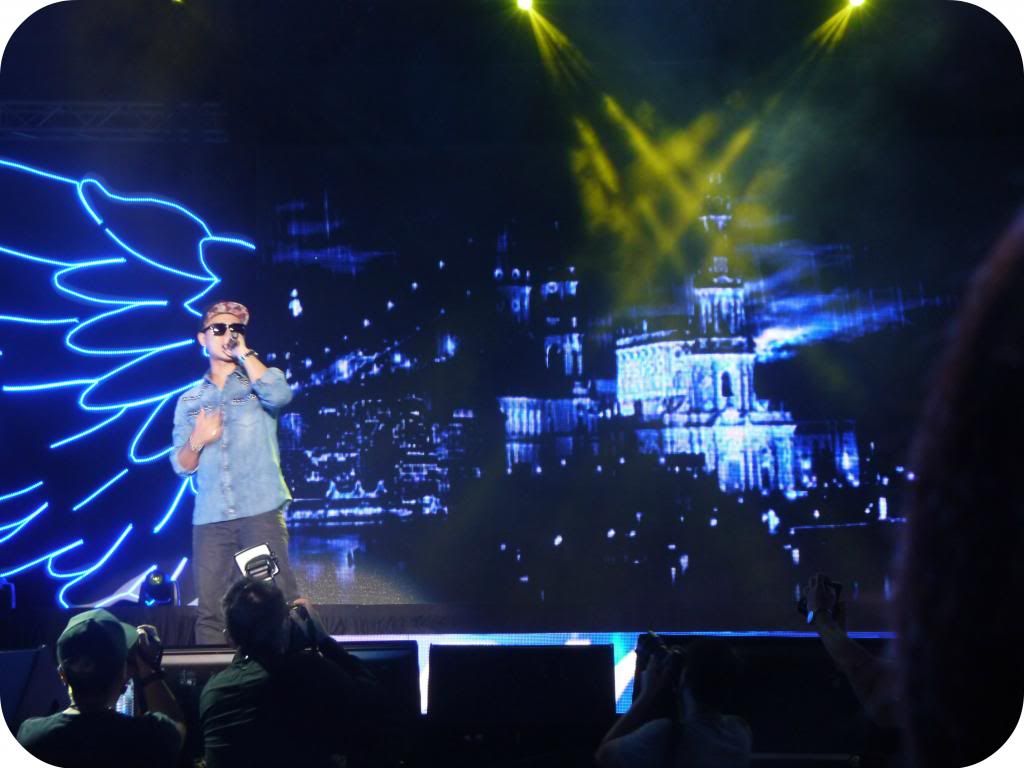 Saranghae oppa!!!

The finale song ended, and the cast made their way backstage. However the crowd wasn't satisfied so everyone went "ENCORE!" and guess what, they went back on stage singing Kookie's "Loveable"! It was a 'wet' performance, literally, with them spraying water at each other and us...
...as seen in the picture here. Spot me, hehe!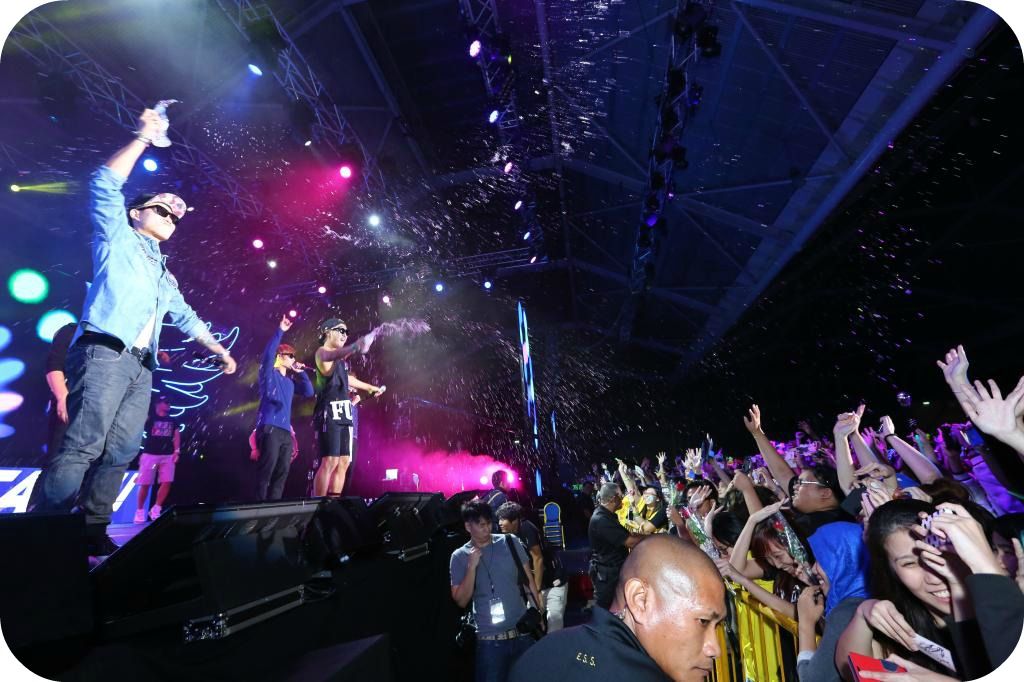 Picture Credit : ONE TV ASIA
In a nutshell, I really feel that the two hundred and fifty ticket is totally worth it! I enjoyed myself so much, screamed too much at one point I even feel like my head is gonna explode lol. Right after the show (sadly!) ended, Isma drove us to W Hotel, apparently there's where the cast are staying at, with hopes that we can meet them there. We even went down to Zouk to see if they're there hahaha.
Too bad they weren't, boohooo.
Two days later I found their itinerary together with hotel room number in my bag. No idea how it got in there but damn, wish I had found it earlier at least we know where to stalk them after the show, lol.
*****
Anyway, so that pretty much sums up one of the best night in my life! Hope to see them again one day, maybe the next time that happens, they will be doing their official filming right here in Singapore!
Running Man hwaiting!
xoxo