I had my very first flea market last two weeks, and my second some days back, selling brand new items mostly from my Bangkok trip which I decided not to wear at all. No surprise there, that's exactly what Bangkok can turn you into - an absolute Oniomaniac, no kidding. Seriously who can resists so many dirt cheap yet awesome stuff?
I know I can't :p
Anyway, I'm gonna share some tips and info, together with the do's and don'ts when you're organizing a flea market, based on my own humble experiences. First step is of course, to book your booth. For me, I got mine from
www.forfleasake.com
. Their fleas are categorized by series which are located at different locations, which bring me to the first and foremost point...
Yes it matters - A LOT. If you check the website, you will notice that the rental price varies according to its venue, so that pretty much tells you the size of the crowd you should expect. The 'popular' ones, like Lucky Plaza, costs close to a hundred bucks, cheaper ones around forty. So larger crowd equals to higher paid rental fees which also means higher chance of making more profit. At the same time if you pay for a cheap booth, the crowd is... mehhhh. & you make $ just enough to just cover your rental fees. Which one do you prefer?
My first flea was at Wavehouse, Sentosa.

#1. Do come early to set up your booth, the earlier the better. That's because you get to choose your booth and personally for me I prefer those nearer to the entrance. Cos that's where the customers' wallets are still thick with moolahs, hehe.
A table together with two chairs will be provided for you, so the things you might need to bring along are table cloth and signage (presentation is what makes makes you stand out, thus attracting em customers), your clothes rack along with hangers. Don't forget your plastic bags and small changes!
#2. Smile! Be nice friendly. No one likes seeing a cranky monster, let alone come near one!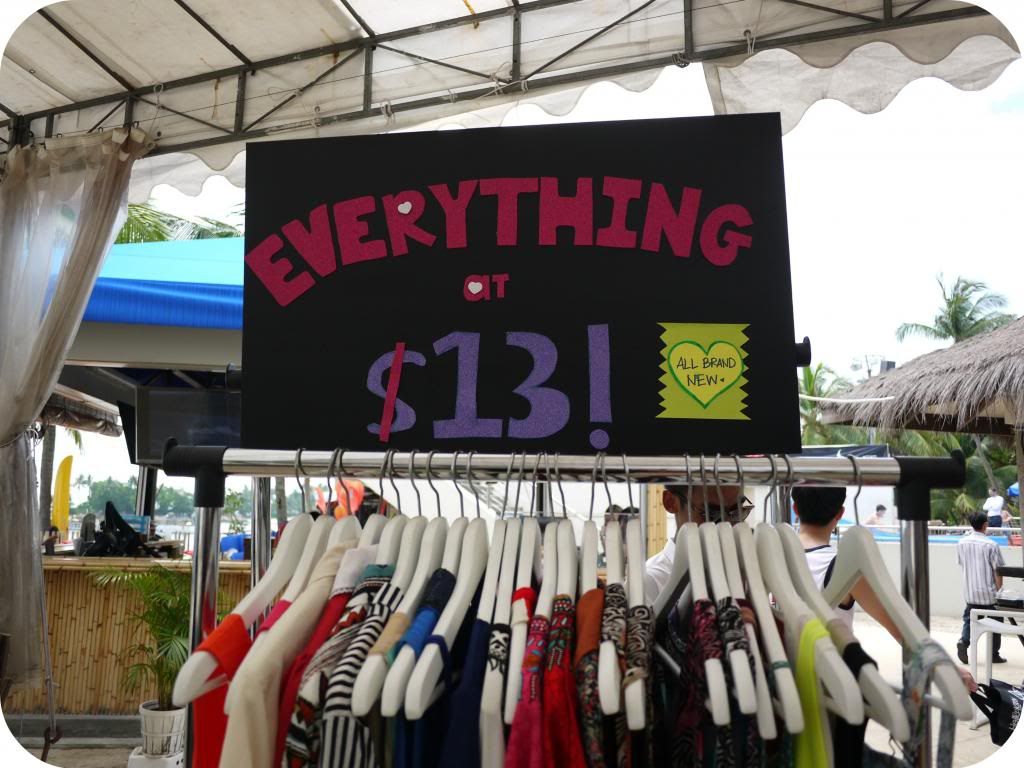 OCD-me got hangers from IKEA just to standardize them and make my clothes rack looks, nicer? & the signage up there, caused me to have only three hours sleep the night before. Moving on to the next point..
A bit tricky here, I mean yes, everyone expects a huge profit at the end of the day, no? But bare in mind, it is a flea market here, no one wants to buy stuff at a flea market which costs as much as what they can get at the mall. (once I almost bought a skirt at a Scape Flea but backed out after I checked the price - thirty five bucks, dafug?) So don't expect to attract much customers when your stuff are highly priced.
Also, take some time to go around and look at your so called 'competitors' booths and check out their prices so that you have an idea of the prices range the customers will expect to see. Bottom line is, don't be too greedy. And if one of your item isn't moving, don't hesitate to lower the price.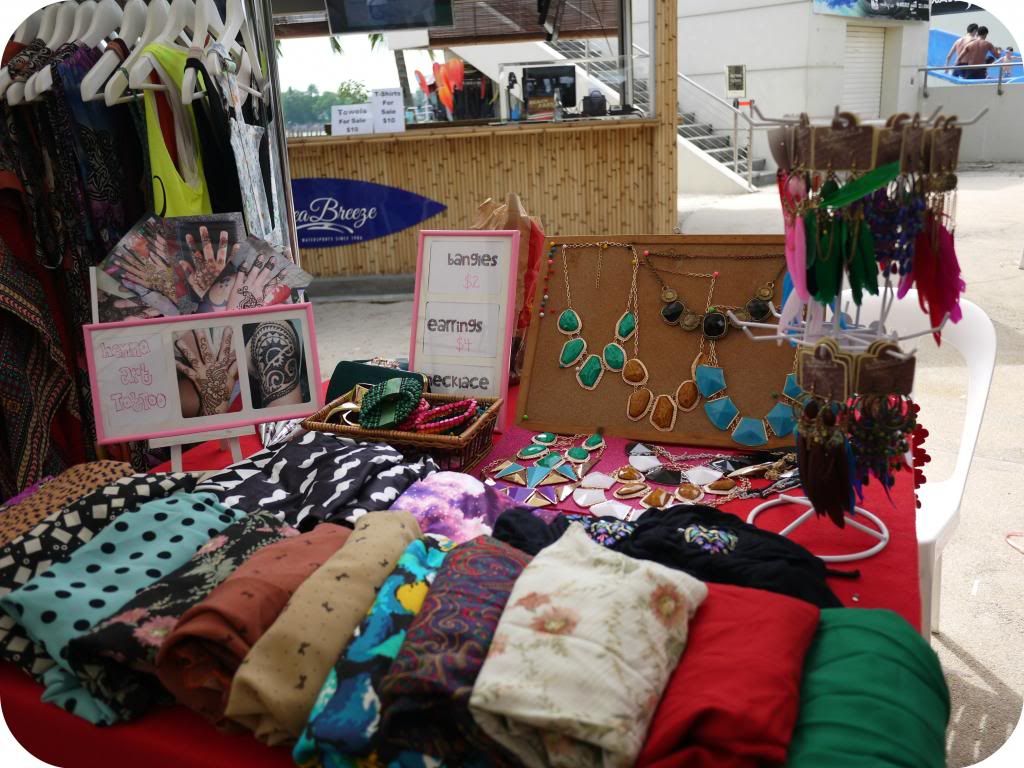 The outcome was rather disappointing, even though I managed to cover my rental fees. Well this is how I learnt about the importance of location. Anyway I decided to have another flea, and this one took place at Lucky Plaza.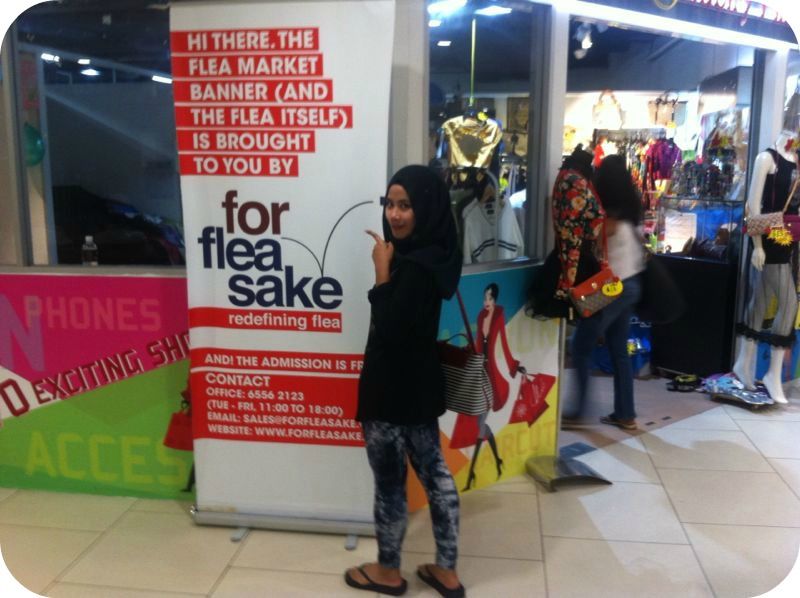 The rental fee this time round is double the price, as expected because the crowd was craaaazy. And I mean real crazy! The moment I unzipped my luggage everyone just swarmed around me, grabbing everything, asking for the price and all. Which explains the lack of photos.
This time round I made changes to my price - eight bucks each. Other booths' prices start as low as one freaking dollars, mostly below five bucks only! The booth next to and in front of me even better, their stuff are 3 for ten bucks! As I've aforementioned above, you wouldn't want to set your stuff at a high price when your so called 'competitors' are selling theirs at a cost which is as good as free lol.
Given myself in the customers' shoes, it is highly likely I'd go for the 4 for ten bucks. (yeah they slashed the price after some time! ) Plus, most of the stuff there are brand new, or looks like one at least.
Towards the end of the flea, guess how much my stuff are selling at?
THREE FREAKING DOLLARS.
But thank God I made a much bigger profit, compared to my first one.
If you are ever planning to have a flea here in Lucky Plaza, one thing that you must to know that 90% of the customers are Pinoys, and some are maids, so you really can't assume . For them, ten bucks is considered as expensive. I overheard one vendor got into an argument cos the customer insisted on having her bag at five bucks when it is on sale at fifteen and the vendor refused.
It doesn't hurt to haggle, really.
Oh and last but not least....
#4. Have fun, lots of it!
xoxo